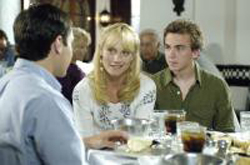 My Sexiest Year is a film starring Frankie Muniz and has been long awaited. It recently premièred and here is the first review.
A '70s-set flashback to a teen's sexual initiation by a beautiful, compassionate older woman, "My Sexiest Year" smacks of the 70s ("Summer of '42," anyone?), before such delicate vignettes were torpedoed in the '80s by "Fast Times at Ridgemont High" and even the raucous, ostensibly '50s-set "Porky's." Uneasily combining Neil Simon-esque childhood memoir with contempo puberty comedy, helmer-scribe Howard Himelstein's nostalgic wallow is rescued by the considerable talents of its colorful cast. Still, the flaccid ThinkFilm pickup may flounder with the under-60 set.
Click 'more' to continue reading.

Seventeen-year-old budding writer Jake (Frankie Muniz, in a sweeter, less ironically dysfunctional variation on his titular "Malcolm in the Middle" persona) is sent to Miami by his secretly ill mother (Frances Fisher, evoking an entire loving Brooklyn childhood in a few short scenes) to stay with his estranged dad Zowie (Harvey Keitel), a feckless racetrack handicapper.

En route south, Jake is befriended by a perpetually high rich kid (Ryan Cabrera), who introduces Jake to the affluent "in" crowd at school as the son of a famous racehorse owner. Unable to come clean, the modest Brooklyn boy is soon respected by all, though he neither smokes, drinks nor drawls.

Meanwhile, on the beach, a group of international models have set up a shoot, including blonde beauty Marina (a luminous Amber Valletta), whose drop-dead good looks are matched only by her melancholy kindness. Responding to Jake's innate chivalry, Marina soon takes him under her wing and into her bed, fulfilling his every fantasy, particularly when she shows up at school the next day for a farewell kiss.

Pic is an odd mishmash of motley ingredients from disparate genres and different eras. Zowie, sinking under a streak of bad luck, struts his dignity in Damon Runyon-esque run-ins with an old loan-shark pal and his disrespectful minions. Keitel's slow conversion — from fear that his kid may be "light in the loafers" to admiration for his talent — profits greatly from the actor's obvious enjoyment of his character's comically swaggering obtuseness.

Marina and her fellow models conjure softcore sexploitation flicks, while the high school kids rep an idle rich defined solely by clothes, cars and drugs. And Jake's sensitive writer could have sprung from any decade.

When pic stays securely locked inside its flashback, its male-fantasy anomalies remain fairly innocuous. The same can't be said of its framing present-tense story, in which Jake is now a bestselling author.

Tech credits suffer slightly from pic's uncertain period reconstruction.

Camera (color, widescreen), Richard Crudo; editor, Dean Goodhill; music, Anthony Marinelli; music supervisors, Gary Calamar, Alyson Vidoli; production designer, J. Mark Harrington; costume designer, Ellen Falguiere; sound (Dolby), Mark Weber. Reviewed at Hamptons Film Festival (Spotlight), Oct. 19, 2007. Running time: 93 MIN.

A ThinkFilm release of a Funky Buddha Group production. Produced by Paul Parmar, Michael Cerenzie. Executive producers, Victoria Ali, Sam Zaharis, Harvey Keitel, Amanda Zaffiro. Co-producer, Amy Balsam. Directed, written by Howard Himelstein.

With: Frankie Muniz, Harvey Keitel, Amber Valletta, Francis Fisher, Ryan Cabrera, Daphna Kastner, Haylie Duff, Karolina Kurkova.
Still no release date.
UPDATE: See Here.