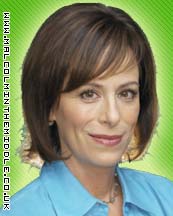 Jane Kaczmarek (Lois) did a short interview with ExpressNightOut.com in June (before the divorce news broke) She seems very upbeat, "It's a wonderful life" we can only guess if this was genuine or if she was just keeping things private.
» EXPRESS: "Raising the Bar" is such a change from your "Malcolm" days.
» KACZMAREK: The funny thing is that I went to Yale School of Drama, and the work that I got for years afterwards was serious stuff. I couldn't even get auditions for comedies! After "Malcolm," people now think of me as such a comedian. But "Raising the Bar" is really returning to what I've done for most of my career.

» EXPRESS: Do you prefer being on a drama?
» KACZMAREK: Doing comedy is really a blast, but "Malcolm" had its challenges, like working with children all the time. What I really love about "Raising the Bar" is working with adults. It's fun to go to work and be surrounded by grown-ups — really, really good-looking grown-ups.

» EXPRESS: It is a very young, attractive cast.
» KACZMAREK: At 53, I'm the veteran. When I hang out with the other actors, I think, "Boy, they know a lot about computers and popular music." And then I realize it's because they're 20 years younger. It's funny to work with these boys who you think are so cute, and then you realize you could easily be their mother.

» EXPRESS: You once said a great thing about playing a judge was getting to wear comfy clothes under your robe.
» KACZMAREK: If there's one thing that every actress asks before a scene, it's "Are you going to see my feet?" If you are, you put on your beautiful shoes that are killing you. If you're not, you put on your Uggs.

» EXPRESS: Your wardrobe must be all black robes and fancy collars.
» KACZMAREK: I love that because my character is unmarried, has no children and has no life other than her political aspirations, she really dolls herself up. You mostly see the robe, but they always add beautiful scarves, earrings and bracelets.

» EXPRESS: Are you a clotheshorse in real life?
» KACZMAREK: As I've gotten older, I realize I have a lot of beautiful things. What am I saving them for? Now I take the time in the morning to put on a nice necklace and a bangle. I feel so much better when I've put attention into what I'm wearing.

» EXPRESS: Your charity, Clothesoffourbacks.org, auctions celebrity clothes and swag for children's groups.
» KACZMAREK: When Brad was on "West Wing" and "Malcolm" was in its heyday, you wouldn't believe the stuff we'd get! If you were a presenter at an awards show, they would give you a gift basket that they'd usually have to wheel out to your car. It would make me anxious. I knew something had to be done with it.

» EXPRESS: You've kept busy since "Malcolm."
» KACZMAREK: I take classes in letterpress, oil painting and music theory. I'm having a mad affair with Beethoven! It's a wonderful life — kind of like college again.
Source: ExpressNightOut.com