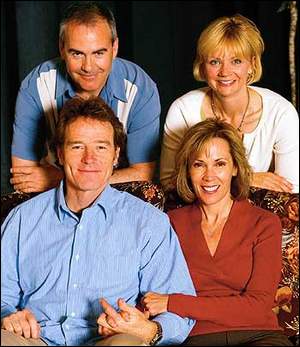 As we have reported previously Bryan Cranston (Hal) recently starred on stage in Neil Simon's Chapter Two. Here is a 2nd review that rates Bryan again. If there are any readers who got to see it, it would be great to hear your thoughts.
Solid cast does justice to Simon's Chapter Two

Benny or Local? If you're "Chapter Two" director John Burke, you're probably enjoying a singular opportunity to work with the best of both worlds.

As artistic director of the annual Shadow Lawn Summer Stage series of productions at Monmouth University, Burke has assembled casts that have featured a mix of Actors Equity professionals, community-stage commandos, Monmouth students and occasional characters who appeared to have stumbled onto the set from the fire exit. Results have consequently ranged in quality from the transcendent to the train wreck.

With this revival of Neil Simon's 1977 comedy, the school's Music and Theatre Arts Department chair finally has a cast to die for — a quartet of players that includes a couple of Monmouth County's most versatile pros, along with a pair of talented out-of-towners from screens big and small. It's a production that's attracted special attention due to the participation of Bryan Cranston, the Emmy-nominated actor known to millions as Jerry's swinging dentist on "Seinfeld" — as well as, most memorably, family man Hal on the Fox series Malcolm in the Middle.
Click 'more' to continue reading.
Source: APP.com | Discuss this post in the FORUM

In his role as the perennially frustrated, put-upon patriarch in that long-running sitcom, the stalwart character man checked his thespian dignity at the soundstage door and regularly tested the envelope of his considerable energies, going to sometimes superhuman lengths in the service of a sharply-written, creatively realized belly laugh. As the widowed novelist George Schneider in Simon's quasi-autobiographical play, Cranston is called upon to conjure a very different sort of character — a guy who doesn't always wear his heart on his sleeve, for whom the right words somehow always manage to be expressed in all the wrong ways.

Keeping a low profile in the early scenes, and gradually dipping into his toolbox of facial expressions and physical-comedy gifts, Cranston finds the requisite laughs in Doc Simon's dependably gag-infused script — without veering so far into shtick as to dilute the power of his more emotionally wrenching scenes toward the end of this play. It's a beautifully modulated performance, and a satisfying showcase for a skilled farceur who's always managed to invest even the silliest of projects with an enormous amount of heart and mind.

Any actor worth his paycheck should be expected to feign likability, of course, but in this production, Cranston finds himself in the company of friends — not least of whom is wife Robin Dearden, the veteran stage-screen actress who co-stars here as Jennie Malone, a recent divorcee who rebounds into a re-marriage as the second Mrs. Schneider. With the action flip-flopping from one Manhattan apartment to another over the course of nearly 20 brief blackout scenes, Cranston and Dearden are asked to telescope what seems like years of life experience into an impulsive whirlwind relationship that seems so doomed, yet so right at its core.

Alternately helping and hindering things are George's press-agent brother Leo and Jennie's best friend Faye, played by Shadow Lawn returnee Bill Timoney and his wife, Georgette Reilly Timoney. The Belmar residents are both cartoon-voice specialists and multifaceted artists in their own right; their presence here reinforces the very real sense of rapport among this company.

With the material secure in such good hands, the only problems with the production arise from the fact that it's being presented in the school's 700-seat Pollak Theatre, rather than the Summer Stage's usual home at the charming little Woods Playhouse, a facility that's currently undergoing some welcome renovations. With whole sections of the auditorium blocked off to ticket buyers, the Pollak makes an unfortunately cavernous setting for this intimately-scaled show.

In the not too distant future, when posterity is able to sort through the prodigious output of the prolific Neil Simon, Chapter Two may take its place as one of the popular playwright's deepest and most heartfelt works — this despite being ill-served by a 1979 film version that starred a miscast James Caan. Those who might think they're dealing with the umpteenth dessert-show production of Last of the Red Hot Lovers should grab the opportunity to see this often overlooked play, presented by a group of artists who have mined it for its full heartbreaking, knee-slapping potential.

Posted by the Asbury Park Press on 07/25/07