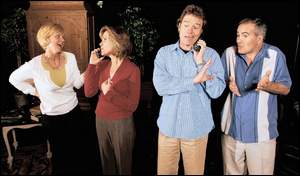 As we have reported previously Bryan Cranston (Hal) is currently starring on stage in Neil Simons Chapter Two. Here is a review that rates Bryan but is disappointed overall. If there are any readers who get to see it, it would be great to hear your thoughts.
Chapter Two has turned into a blacker comedy than it needs to be at Shadow Lawn Stage in West Long Branch.

Granted, this is Neil Simons most complicated play, for it deals with death and disappointment. The famous line Marry in haste, repent at leisure here becomes "Remarry in haste, and repent almost immediately."

Give credit, though, to the four performers — including Bryan Cranston (Hal in Malcolm in the Middle) — for making the laughs that do exist to fly over the footlights. All four, however, are sabotaged by set designer Fred Del Guercio and director John Burke — though both men were probably undermined by a small budget.

Del Guercio hasn't designed a set, but is merely the show's interior decorator. All he's done is pick out pieces of furniture, and arrange them into two apartments — one for recent widower, novelist George Schneider, and one for actress Jennie Malone, who's newly divorced. Behind them, Del Guercio hasn't created two distinct walls, but has simply dropped an enormous black curtain. That dark expanse imposes an additional heaviness.
Click 'more' to continue reading.
Source: NJ.com | Discuss this post in the FORUM
Burke, though, is the bigger culprit, for thinking that each scene needs to end with a blackout. Considering that there are 18 scenes, the lights go out far too often. The audience sits in darkness for dozens of seconds, and waits … and waits … and waits. That short-circuits the play's flow.

Most directors who tackle "Chapter Two" prefer to keep the lights up when, say, George exits from his apartment to end a scene and Jennie comes into hers to begin one. While every now and then a technical worker needs to come on in darkness to deal with a significant prop, Burke still should have kept the blackouts to a minimum.

The chemistry is excellent among the four performers for good reason. Cranston (George) and Robin Dearden (Jennie) are married in real life. So are Bill Timoney, who plays George's brother Leo, and Georgette Reilly Timoney, who portrays Jennie's best friend Faye Medwick.

Cranston first wears the mask of tragedy as, at first, George mourns the loss of his beloved wife, cancer-victim Barbara, to whom he was blissfully married for 12 years. When a believable contrivance has him meet Jennie through an errant phone call, Cranston finally gets the chance to put on the mask of comedy. He knows how to play consternated, and can amusingly shrink in his skin when he makes a mistake. At playing benign neurosis, Cranston is a master comedian.

Dearden first plays the divorcee as the seen-it-all New Yorker, seeming as haughty as her impressively high cheekbones. She then displays a third-degree burn on her soul. Eventually she warms into such a nice person that, if George doesn't appreciate her, many men in the audience will yearn to take his place.

Simon made George and Jennie the "serious" couple, and Leo and Faye the "comic" one. Thus, the Timoneys have more fun. He has an astonishing sense of comic timing, and knows how to punch a punch line. She has a delicious pert quality that usually isn't seen in this role, but she makes it work wonderfully.

"Chapter Two" isn't the summer-by-the-sea comedy that audiences may desire on a hot night. Still, for those who always wondered what Hal in "Malcolm in the Middle" did for a living, here's one answer: Bryan Cranston is an accomplished stage performer who knows that having a strong cast around him makes him look even better.

BY PETER FILICHIA
Performances play Pollak Theatre on the Monmouth University campus July 19-29, 400 Cedar Avenue, West Long Branch, NJ. Tickets are $35. For information, call (732) 263-6889 or visit the official site.