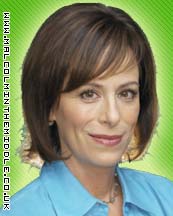 Jane Kaczmarek has booked her first acting role after last season's Help Me Help You, in which she guest starred in four episodes.
This new role is in a potential series for cable network TNT. The untitled legal drama, from Steven Bochco, the Executive Producer of NYPD Blue, co-stars Mark Paul Gosselear (NYPD Blue, Saved by the Bell) and Gloria Reuben (ER).
The pilot will focus on law-school friends who now work on opposite sides of a case. Said case is set to be presided over by Jane Kaczmarek, who will play a judge.
An Emmy nominee for each of her seven seasons on Fox's comedy "Malcolm in the Middle," Kaczmarek is making a dramatic turn with the TNT project, playing a stylish, imperious and a bit crazy judge who runs her courtroom like her own private fiefdom.

Kaczmarek has experience playing a judge as she voices occasional "Simpsons" character Judge Constance Harm. She is repped by Endeavor and Greenlight Entertainment.
UPDATE: Named Raising the Bar.
UPDATE: Picked up by TNT
Source: Hollywood Reporter | Discuss this post in the FORUM | Thanks Rye & Tyno