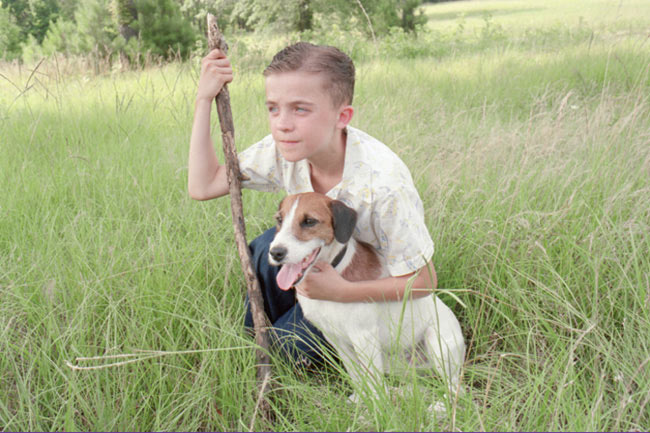 Frankie Muniz (Malcolm) announced a few days ago on Twitter that Enzo, the dog who played Skip in My Dog Skip, passed away on June 23rd, 2010.
Just learned that Enzo, who played Skip in My Dog Skip passed away yesterday. Enzo taught me that dogs REALLY are mans best friend. RIP Enzo
https://twitter.com/frankiemuniz/statuses/16938983688
The movie My Dog Skip was an important turning point for Frankie's career, giving him mainstream success which may well have been crucial in allowing him to land the role of Malcolm later on. The film also featured Moose, the father of Enzo, who played the older Skip in some scenes. Enzo's versatility and talent as a dog actor was remarkable:
Animal trainer Matilde Decagney, whose experience includes the feature films "As Good As It Gets" and "Homeward Bound 2" as well as the NBC series "Frasier," cited two months of preparation and lots of pampering, including an air-conditioned trailer to fight the Southern heat, to keep the film's fuzzy co-stars focused. The main Skip, the three-year-old Enzo, was asked not only to display a range of moods, from sweet to protectively fierce, but to play baseball, football and drive a car!

"The tricks are not hard for him to do, as long as he's in good condition and not too hot," explains Decagney. While cast and crew were allowed to pet Enzo and the other dogs between takes, any food that might distract a canine nose was strictly prohibited.

"Skip never failed us. I wish I worked with actors who were as well prepared as Skip," admits Mark Johnson. "There was not a trick or a piece of business we asked the dog to do that he wasn't able to do; it was uncanny. The trainers were so good, they could stop him on a mark, he could lift his leg, he could do a somersault. I expected to see him reading the New York Times any day."
[flv:https://www.malcolminthemiddle.co.uk/video/frankie/Frankie-Muniz-My-Dog-Skip-Trailer-MITMVC.flv 550 302]
In other canine news in Frankie's life, he and his girlfriend recently got a new puppy, which they named Xophe.
Weighing in at 1.9 lbs, here's Xophe.
https://twitter.com/frankiemuniz/status/16979087056
Tip of the day: If you get a new puppy, buy stock in paper towels first. Been cleaning up pee non-stop for two days. Ohhh the joy!
https://twitter.com/frankiemuniz/status/17096900627
Sounds like he's having fun!
Source: ThePoop.com, @frankiemuniz on Twitter