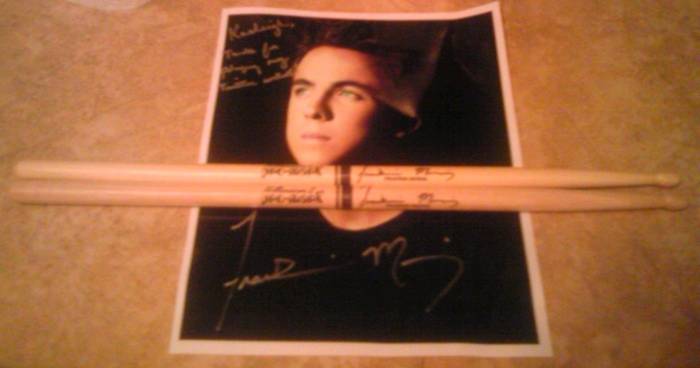 Frankie Muniz (Malcolm) joined You Hang Up in December 2009, after the band were looking for a drummer.
The band is now going to be touring the United States in August:
Sat, August 7 – 7:00 PM — at Vibes Main 1 — Medford, OR
Fri, August 20 — 6:00 PM — at Marquee — Tulsa, OK
Sat, August 21 – 6:30 PM — at New Daisy Theatre — Memphis, TN
Sun, August 22 – 7:00 PM — at The Subterannean — Chicago, IL
Mon, August 23 – 9:00 PM — at Mexicali Live — Teaneck, NJ
Tue, August 24 – 8:00 PM — at Towson University— Towson, MD
Wed, August 25 – 6:30 PM — at The Canal Club— Richmond, VA
Thurs, August 26 – 8:00 PM – at Tremont Music Hall — Charlotte, NC
Fri, August 27 — 8:30 PM — at The Loft — Dallas, TX
Sat, August 28 — 8:00 PM — at House of Blues — Houston, TX
Some new tracks, featuring Frankie's drumming have also been put up (in an unfinished 'pre-mix' state) on the band's MySpace page. These are the first tracks that we have heard that have Frankie on drums; the previous 'Release Me EP' tracks were released before Frankie joined the band (you can purchase the older EP tracks on the iTunes Store).
'The Search' pre-mix — You Hang Up
[audio:Frankie-Muniz-You-Hang-Up-The-Search-PreMix-MySpace-MITMVC.mp3]
'Running' pre-mix — You Hang Up
[audio:Frankie-Muniz-You-Hang-Up-Running-PreMix-MySpace-MITMVC.mp3]
You can also hear an interview Frankie Muniz did for the JohnJay and Rich radio show, back in January 2010, where he first talks about becoming a member of the band:
[audio:Frankie-Muniz-JohnJay-And-Rich-Jan-2010-MITMVC.mp3]
Got the t-shirt?
The band have also already started producing some merchandise, with the first band t-shirts now available for purchase.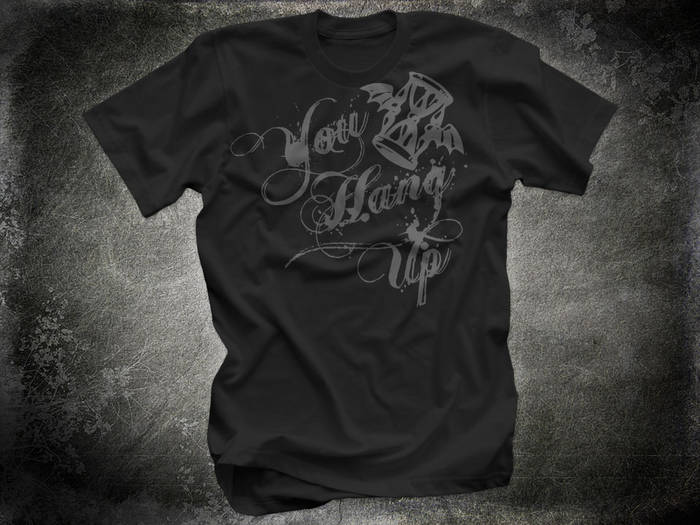 You can follow the band on Twitter, become a fan on Facebook and also add them as a friend on their MySpace page.
Hey all…

I wanted to let everyone know that I am now the drummer of an amazing band called "You Hang Up". Check us out at www.youhangup.com and be sure to add us as a friend.

I can't wait to see all of you at our shows!

This is something I have always wanted in my life, and I'm thrilled to be associated with such a great group of guys!

Also, follow us on Twitter @youhangup and on facebook at You Hang Up

Thanks so much!

Frankie
Source: Frankie's MySpace blog
Exclusive: We learned last week that Frankie Muniz, former star of sitcom 'Malcolm in the Middle' and two-part Hollywood franchise 'Agent Cody Banks,' is the drummer for unsigned Arizona rock act You Hang Up. Frankie, 24, spoke to PopEater about his new life as an aspiring rocker, why playing live for 15 people was more nerve-wracking than being broadcast to millions of homes each week and what he thinks about other actors who rock.

What's your background with music?
I've been playing since I was 12 years old, but nothing serious. I was a five-minute-per-week hobby drummer. I'd only played to my iPod with headphones on. It was always a dream to be in a band, but with acting going on, I never really considered it being something that could actually happen. And if I could get in a band, I wanted it to be something that was completely serious, with good music. But it felt like one of those jobs when you're a kid and you want to be an astronaut or something. I've been very fortunate in my life to have three of those jobs — being an actor, a race car driver and now a musician.

How does the L.A.-based star end up behind the kit of this unknown Arizona band?

My girlfriend was contacted by the lead singer, Aaron, just kind of saying, 'We have mutual friends, check out our music.' So we listened to You Hang Up, and I really, really liked it — it's the type of music I listen to. Then Aaron said he saw a video of me drumming on my Myspace profile. He asked if I've ever been interested in playing in a band, and literally that day we got lunch and talked about the band and the music and I said I'd love to be a part of it. That was Dec. 20; we had our first practice Jan. 1.

So just under two months in the band. What's it been like?

We've progressed insanely. We've been trying to keep everything completely under the radar as long as possible, playing small shows under different band names. Now we're ready to go out and show everyone what we're made of. We had rehearsal last night — the new stuff we're coming out with is exciting. So far it's been an amazingly fun experience, and that's what's important.

Were you leery You Hang Up might've just been drooling at the prospect of 'Agent Cody Banks: The Drummer'?
Nah, I could tell. After ten years in show business, I can tell when people are really excited because I was on TV. These guys were super cool. They could tell I just like playing drums. I've never felt like they wanted me 'cause I was on TV or in movies.

So what's it been like to play live after dreaming of this for so long? Did you get the same rush you got from your first race or from seeing yourself on primetime TV?

I really did. I had never played in front of more than two people in my whole life. I'm actually pretty shy, especially when it comes to drumming. But once I started playing with the guys, I got really comfortable. A few days before our first show, we invited our families to our rehearsal space just to show them what our set was gonna be, and I can't explain how nervous I was for that. And then when we played in front of 200 people, I wasn't nervous at all. Once we'd gotten over that initial practice concert, I was ready. Now everything we've done, I don't even have a hint of butterflies. It's still so fresh, though — it's a totally different environment from anything I've done. Although it kind of reminds of going to award shows and having to announce an award — I was so nervous.

Who are your favorite drummers?

I started playing the drums by watching Hanson — they were 10, 11, 12 years old at the same time I was — and I thought, 'I wanna do that.' But once I really got into drumming I became a big fan of Dave Matthews Band, and Carter Beauford is insane. He's one of my favorites — he can do anything, any style of music.

How about that five-year-old YouTube drummer?

Yeah, what's his name — Jonah Rocks? I don't understand how you teach a tiny kid rhythm like that. It's crazy. He's pretty cool.

Are you a fan of any other actors who rock?

There's not many I know other than Jared Leto who have done it and had the music be great. I don't follow that many — I can name Keanu Reaves, Jason Schwartzmann. I mean, there are the pop star ones, the Leighton Meesters and the Hillary Duffs, but…

You're not the next Hillary Duff?

I'm not singing and dancing to pop music! I'm just playing the drums. But I have my own goal: To just enjoy myself. I've realized in my limited years that that's what's important. I enjoyed acting, but it got to the point where I wanted to focus on racing, just because as a person, I felt better doing it. Now doing the music, it's just the way it makes me feel inside.

As long as you don't end up like Joaquin Phoenix, you're all set. So what's You Hang Up's next move?

We're about to record three new songs, and we're writing a few more so our setlist is bigger. We're about to start going crazy on shows — I can't wait to be on the road, rocking out every night. We want to go out and blow everyone away. We want people to say, 'Ah, let's go check out this band,' and leave thinking, 'Wow, that was the best show I've ever seen.'

What's the future look like in the racing and acting departments?

I want to go racing, for sure, but I'm really excited about the band. I've also got some acting things going, a show I'm developing. I'm busy! Acting was on the back burner for a few years, but now I've got the option of heading back that way. The problem is that all three jobs are full-time.
Source: PopEater