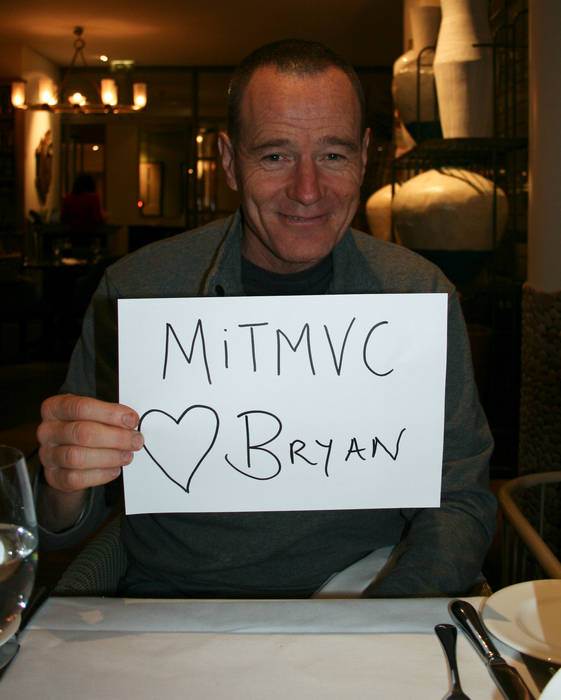 Bryan Cranston (Hal) is currently starring as the character of Walter White in AMC's Breaking Bad and will also appear in feature film Red Tails sometime this year.
Now, there are reports that Bryan is in the final stages of negotiation for Larry Crowne, a new feature film produced by Tom Hanks in which he will star alongside Hanks and Julia Roberts.
Bryan Cranston is in final negotiations to co-star with Tom Hanks and Julia Roberts in "Larry Crowne." Hanks also is directing the dramedy for Vendome and Universal.

Written by Hanks and Nia Vardalos, the story centers on the title character (Hanks), who is downsized from his job and decides to start over by enrolling in college. There he forms some unexpected bonds with fellow students while also catching the eye of a professor (Roberts).

Cranston, star of AMC's "Breaking Bad," is playing Roberts' husband, a blogger who spends most of his time looking at porn.

Hanks is producing with his Playtone partner Gary Goetzman. Vendome is financing the film, which begins principal photography this month in Los Angeles. Universal is distributing the movie domestically.
It is also reported that Bryan will also appear with Ben Kingsley in A Birder's Guide To Everything, a feature-length film from Rob Meyer, expected to start shooting this summer.
The film is a feature length treatment of Meyer's short film "Aquarium," and the synopsis below reveals that the film actually centers on teenage leads, not adults, so it's unclear who Cranston and Kingsley will play:

After spotting what he thinks is an extinct duck, high school sophomore and bird enthusiast David Portnoy persuades his two dorky buddies and the "new girl in school" to join him on a quest to locate the mysterious bird. What begins as a simple and straightforward mission becomes a coming-of-age adventure for all involved, particularly David, who must come to terms with some painful aspects of his family life.
Bryan seems to have plenty of projects lined up for 2010; he also confirmed in a video chat for Malcolm France last month (video coming soon) that Season 4 of Breaking Bad is likely to start shooting in August.
Source: The Playlist, Hollywood Reporter