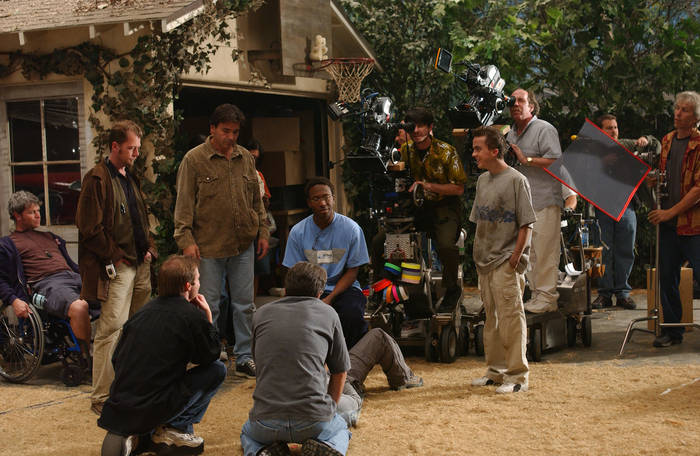 Sons of Tucson is as close to a Malcolm in the Middle reunion as there ever has been, but its all behind the scenes. As I'm sure you know Son of Tucson is produced by Justin Berfield (Reese) and directed/produced by Todd Holland who worked on many Malcolm episodes.
Justin was responsible for this reunion and had this to say…
We all knew a show revolving around three young kids requires someone who's done it before and Todd fit that bill immediately, I'd actually been dying to work with him again for the last three years, so I'm glad everything worked out.

The reason why we brought a lot of the people from Malcolm is, especially when you're working with kids, time is extremely important, and that's a group of people that worked together for seven years straight, and they all know what to do and the timing needed to get it done.

You can't say enough about that when you're on a TV show with kids. You want everything to run as smoothly as possible because, especially with Ben Stockham who plays Robby, you only have him on set working hours like four hours a day, and if he's in three or four scenes, everything has got to be running smoothly, and so that's why we brought on everybody from Malcolm, not only because they're the best if not some of the best in the business at their jobs, but because they all have a short-hand knowledge with each other, and they just work together great.
People who made the move (and their Malcolm contribution):
Matthew Carlson (Producer/Writer/Director – 81 episodes) Janice Carr (Producer – 44 episodes) Peter Lauer (Director – 12 episodes) David D'Ovidio (Director – 12 episodes) Matt Marshall (Director – 11 episodes) Andy Bobrow (Writer – 15 episodes) Joaquin Sedillo (Cameras – Pilot) Ken Miller (Casting – 22 episodes) Nikki Valko (Casting – 23 episodes) Laverne Caracuzzi (Make-up – 22 episodes) Andrew Adams (Boom Operator – 126 episodes) Ken Sega (Sound Mixer – 150 episodes) Laura Dash (Stunts) Chris Haynes (Driver – 3 episodes) Jaime Abarca Jr. (Location Security – 25 episodes) Brooks Bonstin (Location Manager – 66 episodes) Robert L. Dohan (Location Manager – 151 episodes) [based on IMDB]
Source: dailybruin.com monstersandcritics.com