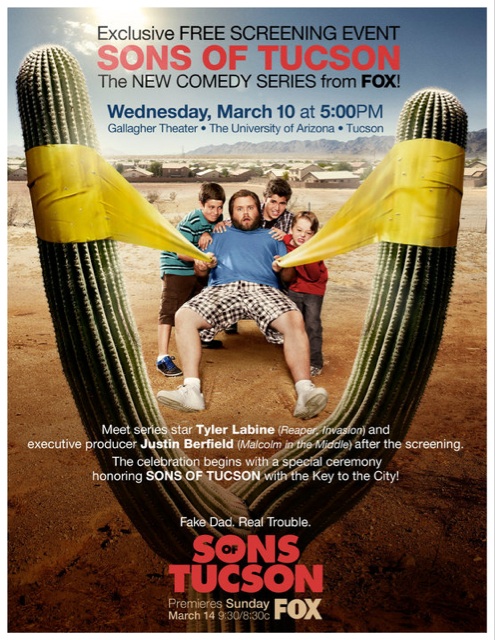 March 10, 2010 – Justin Berfield attended the premiere of the first two episodes of Sons of Tucson at the University of Arizona's Gallagher Theater. Mayor Bob Walkup proclaimed it "Sons of Tucson Day" and presented Justin with a gold key, a symbolic gift of appreciation, he has given such a key to 11 people in his 10 years as mayor.
It's not something we do very often…It has to be someone who is a leader and has done great things…This new show gives Tucson visual recognition on national television…To get a show like this in Tucson is an extraordinary thing – Mayor Bob Walkup
The show is set in Tucson "because it's a big city, and, as we all say, there's stuff to do here, things to see…Everyone is really gracious and hospitable here," said Justin. His favorite things about Tucson are the University of Arizona and El Charro Restaurant.
This is my first one, and I'm really excited…I only had to create the show, put the title of the city in it and I'm honored…I haven't been offered one of these. I'm sort of excited to see what I can do with it – what I can get with it. – Justin Berfield
[flv:https://www.malcolminthemiddle.co.uk/video/justin/Justin-Berfield-Sons-of-Tucson-Screening-10-March-2010-FOX11AZ-MITMVC.flv 550 300]
Audience members brought up Malcolm in the Middle. One girl asked Berfield, "What would Hal and Lois (his MITM parents) think of you right now?" "Um, they'd be proud. They want the best for their kids," Berfield said, and everyone laughed. – Laura Donovan
However some locals weren't so impressed…
It doesn't take much to get a key to the city these days. Just make a sitcom with the word "Tucson" in the title, show up in town for a premiere of the first episode, and you're golden…They never inquired about shooting here…We have so many really dedicated, hardworking filmmakers in this city who are nameless for so long and end up working in New Mexico and California because there isn't enough work here. One of those people should be acknowledged instead – azstarnet.com
They shot in the Los Angeles area, but include stock-footage shots of Tucson for scene transitions. "For economic reasons, we cannot film the show in Tucson,". Justin said he hopes to film an episode in Tucson for the second season. He said there was no rhyme or reason for selecting Tucson; he has been here only once, as a teenager, to see a concert. But he said, "It's sort of the opposite of New Jersey."
Source: arizona.edu, azstarnet.com, FOX11AZ