Chris Masterson (Francis) is no stranger to playing a bit of poker in his spare time, having previously participated in Celebrity Poker Showdown back in 2004 and in the W Lounge Celebrity Poker Tournament in 2006 (pictured).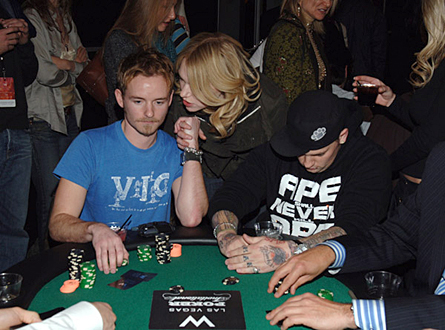 Recently, Chris and his brother Danny participated in World Poker Tour and Commerce Casino's 8th Annual WPT Invitational.
The exclusive, invitation-only event welcomes Hollywood celebrities, industry VIPs and world-class poker players who go head-to head in a freeroll Texas Hold 'Em poker tournament for charity, $200,000 in cash prizes and eternal bragging rights. One hundred percent of the proceeds will benefit Chrysalis, a non-profit organization dedicated to helping homeless and economically disadvantaged individuals become self-sufficient through employment opportunities.
Chris even managed to send out a tweet from the event!
The event happened over the weekend of Saturday 20th — Sunday 21st February 2010 and was held at the Commerce Casino in Los Angeles. Chris and Danny were joined by more than 100 other celebrities as well as some top professional poker players over the course of the weekend. The final six players will return on 3rd March for the Final Table TV taping.
Source: NewsBlaze