Back in 2004 Chris Masterson (shortly after his brother Danny) appeared on the Bravo show Celebrity Poker Showdown. Essentially 5 celebrities play no limit Texas hold 'em poker for charity, with the winner each week progressing to the final. The show is rather fun and friendly to the novice poker viewer.
Chris plays a surprisingly quiet game, I'm guessing it was his game face, for Citizens Commission on Human Rights his chosen charity. I won't give away how well he did, but definitely worth watching.
Chris competes quite often in tournaments, most recently the Dream Team Tournament earlier this year on 28th March.
17 June 2004 – Season 2 Episode 4
[flv:https://www.malcolminthemiddle.co.uk/video/chris/Chris-Masterson-Celebrity-Poker-Showdown-S02E04-MITMVC.flv 550 400]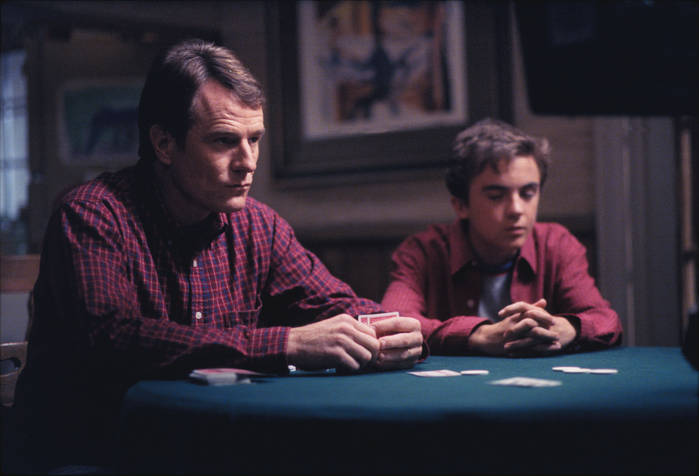 In Malcolm Hal loves a poker game, even if he lacks skill, however in the real world Bryan is somewhat a shark…well at least thinks he is, appearing on Showdown twice.
Bryan says that when he was young he and his family would bet on anything "what tooth I would loose first when I was 8". In his first appearance he played for the National Center for Missing & Exploited Children, a charity Bryan has supported for many years.
25 August 2005 – Season 6 Episode 2
[flv:https://www.malcolminthemiddle.co.uk/video/bryan/Bryan-Cranston-Celebrity-Poker-Showdown-S06E02-MITMVC.flv 550 400]
As you can expect from Bryan he doesn't play a quiet game, he and the other celebs spar throughout, with some pretty funny scenes. His second appearance was a special episode from New Orleans supporting Hurricane Katrina charities, Bryan chose the U.S. Fund for UNICEF.
31 May 2006 – Season 8 Episode 1
[flv:https://www.malcolminthemiddle.co.uk/video/bryan/Bryan-Cranston-Celebrity-Poker-Showdown-S08E01-MITMVC.flv 550 400]