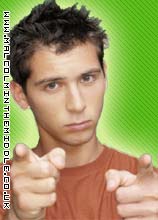 Justin is to start a competition to win a chance to meet him and visit the set of the new show he is producing Sons of Tucson.
There are few details currently, but it seems the competition with be through Twitter and you need to go follow Justin to find out how to take part. He's recently moved Twitter accounts, you can now follow him at http://twitter.com/justinberfield (a faker got it at first) instead of his original account http://twitter.com/justin_berfield. Justin will conduct some sort of 5 question challenge with his followers with 1 ultimate winner. During the set visit the winner will have a photo snapped and posted on Justin's Twitter account. Its being run by Justin's management and not affiliated with Fox Broadcasting, 20th Century Fox Television, J2TV or it's affiliates. A background check may be required (yeah, weird right?)
We don't know when the visit will take place or when the competition will start. We guess sometime later this year while the show is still filming. Its also unclear if its open to non-US residents.
On the topic of Sons of Tucson, Justin said on Twitter last month that re-casting had finished and that production was starting this month. They had been re-casting the older and youngest kids, THR announced that Matthew Levy has been cast as the older, the younger actor is still unknown.
Source: CelebrityLoop (Justin's official forum)