(Sorry, video has been removed)
Sons of Tucson is in short a family comedy about three brothers who hire a charming, wayward schemer to stand in as their father when their real one goes to prison. Its being produced by J2TV Justin Berfield and Jason Felt's production company. They got legendary Malcolm in the Middle director/producer Todd Holland to direct (and executive produce) the Pilot, which you can watch in full above. Its written by Tommy Dewey & Greg Bratman and stars Tyler Labine (Reaper) as Ron the wayward schemer. They have landed with FOX and is set to premiere midseason (spring 2010) and will air Sundays at 8:30pm, which you may recall was Malcolm in the Middle's original timeslot when that series premiered back in January 2000.
They have had to recast the older (Brandon) and younger (Robby) kid characters, and are currently running an open casting call, so if you look around 14 or 9 and are an aspiring actor its well worth checking out! Audition videos have been popping up on YouTube. Frank Dolce as Gary continues his part.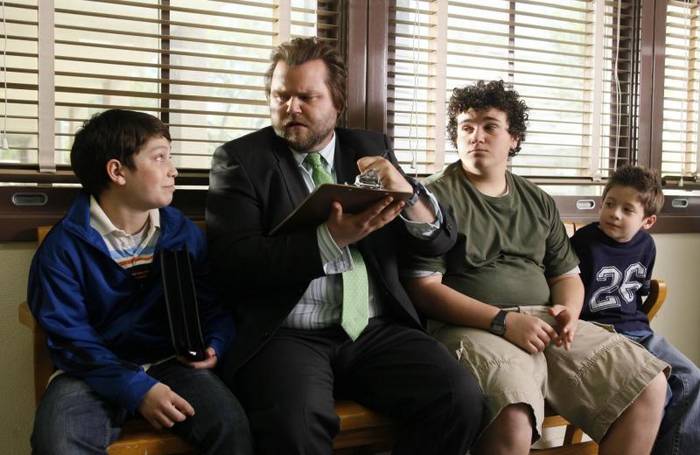 I managed to get a few quick questions in with Justin over Twitter. Why the recast? According to Justin its due to scheduling issues. Justin also confirms that Todd Holland will be directing the Pilot remake and the first two episodes, which is great news.
The trailer for those who can't handle the full episode…
[flv:https://www.malcolminthemiddle.co.uk/video/justin/Justin-Berfield-Sons-of-Tucson-v1-Promo-2009-MITMVC.flv 550 300]
Early reviews have been positive to very positive. Justin and Todd have the potential to turn out a killer show, I'm pumped.
Thanks to Rye (for his continued updates)

Interview with Justin from the Arizona Daily Star
Berfield spoke to the Star last week from his Venice, Calif., office.

Was it a huge relief when Fox picked up the series?

"Yeah, it is always nerve-racking. You never know. You work really hard to put a show together, but there are only so many time slots.
"I was excited about this one because it got me back to Fox, which is where I was for seven years (with 'Malcolm'). It is great to be back home and to have a show I think will really find an audience."

Do any of you have ties to Tucson?

"No. No ties whatsoever except that Tommy, Greg and I love Tucson. I haven't been there in a little while. I'll be organizing a trip for the guys and for all of us at some point."

What were your first impressions when the series was pitched to you?

"I loved it. I loved the notion of three boys of three different ages having to make their way in their new lives."

Why cast Labine as Snuffkin?

"Tyler is incredible. He is probably one of the funniest guys I've met or been around in a long time. He is great with the boys and a real leader.
"He is really, really talented, and we all had a hand in casting him in the show. The studio and the network are really excited about him. I can't imagine anyone else playing Ron."

Any favorite characters?

"Being a former child actor and having grown up on television myself, I think all three of the boys are great. They are all fresh and really good. We were able to pull Frank Dolce off Broadway. He was in 'Billy Elliot.'
"Davis Cleveland is playing Robby. He is very funny. He is a great kid, and his timing is incredible. Troy Gentile has been in several movies, including 'Hotel for Dogs,' and he is doing very well."