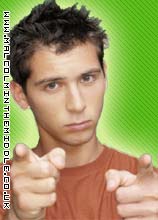 Justin Berfield and his production company, J2 Pictures, are working with the Cayman Islands Government and local investors to establish an official film commission in that country.
Former "Malcolm in the Middle" star Justin Berfield, and frequent visitor to Cayman, has confirmed his company's discussions with the Cayman Islands Government and local investors to establish an official film commission to service all of the Cayman Islands, a press release said.

Recognizing that tourism and banking are the primary industries that the island benefits from, Berfield's goal was to formally introduce a whole other industry to the government and people of Cayman.

"The island is so conducive to many different types of filming and can double as many different locations," Berfield said. "There is so much local talent in Cayman in terms of not only on camera, but trade, electricians, sound engineers, and transportation. The Cayman Islands have done a very good job of servicing tourists. Through this, there is an infrastructure in Cayman that is conducive to television and film production. The infrastructure needs direction and a clear presence. My partners and I hope to work closely with the government and the creative community of Cayman to establish a commission that will truly benefit the country." said Berfield

Cayman is no stranger to film production, having played host to several productions over the last few decades including Paramount Pictures The Firm in 1993 starring Tom Cruise, and most recently the independent feature film Haven in 2004 starring Orlando Bloom and directed by local Caymanian Frank E. Flowers.

It is the intention of Berfield and his proposed advisory board to act as a liaison between Hollywood and the Caymans and as a result bring productions to the island. Further, the proposed film commission would aide local business owners and residents with their existing filming and television commercial production.

Actor/producer Justin Berfield is a partner in highly regarded Los Angeles based boutique production company J2 Pictures. Berfield and his producing partner Jason Felts got their start in film when they served as producers and investors on the feature film Romance & Cigarettes, starring James Gandolfini, Susan Sarandon, Kate Winslet, Mandy Moore and Christopher Walken. The film was written and directed by actor John Turturro.

Berfield and Felts themselves are currently in pre–production on ESCOBAR, a full–length motion picture that will chronicle the life of Pablo Escobar, the infamous Colombian drug cartel leader.

J2 also has a strong interest in comedy, and produced Blonde Ambition, a comedy feature starring Luke Wilson, Jessica Simpson and Rachel Leigh Cook.
Source: Caymanian Compass | Thanks Rye | Discuss in FORUM