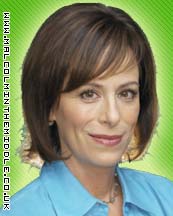 Variety is reporting that TNT has picked up the Jane Kaczmarek starring, Stephen Bochco (NYPD Blue) produced pilot, Raising the Bar, for a 10 episode order.
TNT has given a 10-episode go-ahead to a legal drama from Steven Bochco called "Raising the Bar" for scheduling later this year.

Produced by ABC Studios and Bochco Media, the series stars Mark-Paul Gosselaar as a public defender with a mission to help the down-and-out and Gloria Reuben as his protective boss. Jane Kaczmarek plays a forceful but erratic judge.

Also in the cast are Currie Graham, Melissa Sagemiller and J. August Richards.

The writer-executive producers are Bochco and David Feige; Jesse Bochco directed the pilot.

Michael Wright, senior VP and head of TNT's content-creation group, calls the series a "smart, highly charged legal drama."

The series fits in with TNT's focus on criminal justice with the current scripted original dramas "The Closer" and "Saving Grace" and the rerun hours "Law & Order," "Without a Trace" and "Cold Case."
Jane will play Judge Trudy Kessler. TheFutonCritic gives more details.
TNT has given the greenlight to RAISING THE BAR (working title), the latest series from the mastermind of legal dramas, Emmy-winner Steven Bochco. The series, which stars Mark-Paul Gosselaar (NYPD Blue), Gloria Reuben (ER) and Jane Kaczmarek (Malcolm in the Middle), follows the lives and cases of young lawyers who have been friends since law school, but who now work on opposing sides.

In RAISING THE BAR, Gosselaar stars as Jerry Kellerman, an idealistic public defender who will stop at nothing to help those who cannot help themselves. Reuben plays Rosalind Whitman, his passionate and protective boss. Teddy Sears (Ugly Betty) is Richard Patrick Woolsley, who foregoes a cushy job in his father's firm to work for the public defender's office. On the opposite side, Melissa Sagemiller (Sleeper Cell) plays Michelle Ernhardt, an attorney in the DA's office with an unassailable morality and a burning desire to see justice done. She works for assistant DA Nick Balco, played by Currie Graham (Boston Legal), a bit of a lecher who, nevertheless, has a razor-sharp knowledge of the law. They are joined by J. August Richards (Conviction) as Marcus McGrath, who will stop at nothing to put criminals behind bars. The courtroom arena in which they face off belongs to Judge Trudy Kessler, played by Kaczmarek. She is imperious and known throughout legal circles to be a little crazy, treating the courtroom as her own private fiefdom. Working for her is law clerk Charlie Sagansky, played by Jonathan Scarfe (Into the West), a man with a wealth of secrets.
Source: Variety & TheFutonCritic | Thanks Rye | Discuss in FORUM