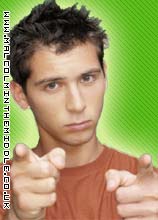 Justin Berfield (Reese) has confirmed on his official forum the news that he is producing a movie based on the true life story of famed cartel leader – Pablo Escobar.
"Escobar" has its financing in place, according to J2 partners Berfield and Felts. Production is slated to begin the in first quarter of 2008 in Colombia and Puerto Rico, and Jere Hausfater will handle international sales through Essential Entertainment. Pic will be introduced at the American Film Market.

The owners of J2, Jason Felts and Justin Berfield, declined through a spokesman to be interviewed. A statement from the spokesman said, "We are pleased to be working with Pablo's brother, Roberto. Many people, the statement added, want to tell Escobar's story, "but very few can tell it accurately"
Also J2TV now has an official MySpace.
UPDATE: here.