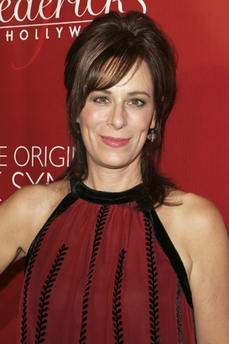 We have some what neglected to comment on all the recent action going on the over at Clothes Off Our Backs. If you don't know it's a charity auctioning site founded by Jane Kaczmarek and her husband Bradley Whitford. The main focus is on celebrity items of clothing but they do branch out into other areas.
They completed their 6th Annual Emmy Auction last month, and have recently auctioned celebrity designed lingerie, including some designed by Jane herself raising $120,000. You can still bid on a corset designed by Jane here, and see photos below.
Here Jane talks about her work in the charity:
"I love to steam them and put them in boxes," Kaczmarek said about the auction items. "Someone told me that Kaczmarek means custodian in Polish, and I really love that end of it. I know it sounds kind of odd, but I really love ironing. And I love making it look really, really beautiful, so when they open up the box they've got a gorgeous dress and beautiful, colored tissue paper."

It's not all dresses, either. There's furniture from Architectural Digest's greenroom at the Emmy Awards. Kaczmarek has her eye on two green Holmby chairs. "I love them," she said. "I thought I'd wait until the last minute to see if anybody moves on those and go in on that, because that stuff is gorgeous."

Kaczmarek and Whitford's oldest child, daughter Frances, is 10, and I asked if she has them bidding on things for her. Nope.

"She's a very modest child," Kaczmarek said. "I never have tabloids around the house, and they really don't know who anybody is. We only have one TV in the house."
Jane and Bradley have been honoured for the charity work:
Sam Nicholson's Mediterranean villa in Pasadena was the setting for the second year for the annual benefit concert for Grace Center.

More than 200 guests turned out for the glamorous Casablanca-themed evening honoring actress Jane Kaczmarek and her husband, actor Bradley Whitford, for their community activism. The San Marino couple has supported several local philanthropies including the center, a Pasadena-based sanctuary for victims of domestic violence.
More photos in our gallery.
Source: whittierdailynews.com & lastheplace.com| Discuss in FORUM