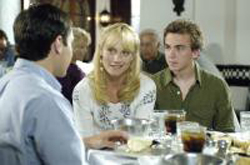 My Sexiest Year, starring Frankie Muniz, is set to have its world premiere at the 2007 Hamptons International Film Festival, in New York, on October 18th.
From the film festivals official website, comes the most in-depth plot description we've had of this film to date.
Jack Stein (Frankie Muniz) is a 17 year-old who lives with his sick mother and grandfather in Brooklyn. He wants nothing more than to be a writer, but when his mother's health takes a turn for the worst, Jack is sent to Miami to live with his father, "Zowie" (Harvey Keitel), a small-time "handicapper" who gives horse racing tips for a living. Not much of a parent, Zowie has shirked his fatherly responsibilities for most of his son's life. Nonetheless, Jack is excited about the prospects of bonding with his dad in sunny Miami.

Jack quickly befriends Mark, a local rich kid, whose excess drug use helps him get through the pressures of teenage life in Southern Florida, where the in crowd only cares about how much money your parents make, who's coming to your pool party, and of course, whether or not you're getting laid. As Jack tries to navigate the waters of his new home– while trying to connect with his eccentric father–he meets Marina, a famous model who is in town for a photo shoot. The two quickly bond. Jack reminds Marina of her younger brother, who died in a motorcycle accident, and Jack just can't get over the fact that such a beautiful woman is interested in him. But just when things seem to be going right, all goes terribly wrong. Jack must figure out how to become a man, if he is ever going to finish writing his memoir.
As the film is just starting to make the festival circuit, I'm sure it will be appearing at many more festivals throughout the rest of the year and into 2008 before hopefully securing a distribution deal. We did report previously that THINKFilm had picked it up however we are unable to confirm this.
UPDATE: See Here.
Source: hamptonsfilmfest.org | Thanks Rye | Discuss in FORUM