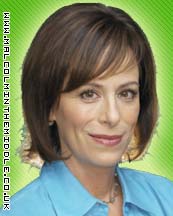 Here is an interview with Jane Kaczmarek (Lois) from iParenting.com where she discuses kids and finance.
Emmy-award nominee Jane Kaczmarek played the hilarious and harried wife and mother Lois on FOX's Malcolm in the Middle. As the mother of three and wife to actor Bradley Whitford (NBC's The West Wing), her real life often bears a resemblance to the one she played on TV. As a mother, she takes a no-nonsense approach to parenting, especially when it comes to money. Having founded Clothes Off Our Back, a charity dedicated to auctioning off celebrity awards show clothing to raise money for children's charities, she tries to instil values in her children regarding finances and giving back to those who are in need. Jane, who recently worked with Visa's PracticalMoneySkills.com, took a moment out of her busy schedule to share her thoughts on kids and finance with iParenting.

iP: How do you get your kids involved in work that you do for others?

JK: We have a big thing with birthday presents. I can't stand all this stuff hanging around our house. It makes me crazy – all this stuff that piles up. So I started something in the kids' invitation for their birthday parties saying that it is a family tradition, in lieu of birthday presents, please bring a check for the following charity – any amount would be very welcome. I think people always want to bring something to a birthday party and they don't know what your kid has and what they need, so we collect money at birthday parties. This year we went back to the Children's Defense Fund, which is an advocacy group for children here in American run by Marian Wright Edelman. We have done it for Smile Train, which is another favorite of mine. Smile Train does cleft palette repairs for children in the developing world. You know, $250 pays for an operation for a child and it changes their life. They go from pretty much being an outcast and beggar to being able to go to school and have a job. And $250 is pretty easy to raise at a kids' birthday party because people bring a check for $20, which is easily what they would spend on a present.

iP: How do your kids take not getting a present?
Click 'more' to continue reading.
Source: iParenting.com | Discuss this post in the FORUM
JK: People still bring something. My mother will still send something, so they end up with three or four things to open as opposed to 20 things to open. And we talk to them about it. They are 7, 5 and 2, so the 7-year-old is starting to understand it. Children emulate their parents and they see their parents doing things and they mimic their parents. I like to play the piano and all the kids take music and Brad plays the viola. They see us playing musical instruments and it makes them want to do it because it is fun and it sounds nice and it is a nice family thing to do together. I am just hoping that this is something they grow up with and it just seems natural as anything.

iP: Do you feel like growing up in the Midwest helped shape your values?

JK: This was not a big family value growing up, unfortunately. My parents are very good about saving money; they were really very resourceful. My father used to always get a Christmas tree for $1. He would cut off branches and drill holes into the trunk where there were empty spots and glue branches into the tree. It was amazing; he would make this phenomenal tree out of this Charlie Brown-est tree on the lot. I grew up with very clever parents; they could make things look really good on very little. I was raised with the idea that you are capable of doing a lot. But the whole giving thing really happened as a combination of going to church and really becoming hugely successful on a television show. Because you can't believe the stuff that people give you. I am doing an event tonight and if I wear earrings from this place they will make a donation to Clothes Off Our Back. So sure, great, I have to wear earrings anyway. Oh, my gosh, people want to advertise. Hopefully you will mention their earrings. There are just a lot of opportunities once you become aware of that. Part of it is that I had my children late and I had my success late, you know I was really in my 40s when all of this happened.

iP: You were in a good place.

JK: You have such a different perspective on it and you are very aware of the ups and downs that happen in a career. The 15 minutes of fame, you realize this might be your only chance to give back, or to make a difference – do it! Don't wait for the next time you are on the top. It is such a roller coaster. You have to just do it.

iP: With so much excess everywhere, how do you avoid your kids being spoiled?

JK: Just say no. I cannot tell you how valuable that word is. No. Why not, they ask? Because it is not for us. Sometimes you just give in because they are driving you crazy. Like my daughter is watching Barney right now. She is just driving me crazy and I am trying to finish decorating the Christmas tree and she is 2 so you think, you know what, let her watch a video in the middle of the day. That's fine. But, for the most part, we play cards and we play Chinese checkers and we play games and puzzles and you practice piano and there are so many great things to do with kids that don't involve money.

Also, just don't buy them a lot of stuff. I just can't stand all that junk piling up.

My church has something called an alternate Christmas fair. They always have booths set up with places like Smile Train and the Heifer Project is a great, great thing where you can buy livestock for people. You can buy a chicken, a goat or a flock of bees throughout the world, including America, where they give people in need these animals and they are able to raise animals and sell them and you get a great little card of a goat or a duck or something. You know, it is fun for kids to be able to do that, to go Christmas shopping in ways that you can buy something that is really going to make a difference in someone's life as opposed to all this stuff.

To learn how other celebrities think about finance, visit www.PracticalMoneySkills.com.
Source: iParenting.com | Discuss this post in the FORUM