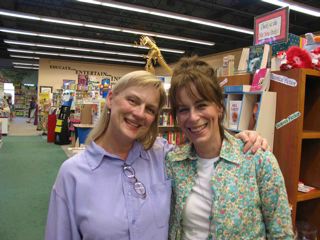 Jane Kaczmarek (Lois) has recently been involved with the launch of the book 'Strange Son' by Portia Iversen.
Strange Son is the powerful tale of two mothers from opposite sides of the world who, united by their fierce determination to help their severely autistic sons, have challenged everything we thought we knew about autism.
You can hear clips of Jane reading the book below and can buy it here.
Clip 1 [audio:Jane Kaczmarek Reads Strange Son 1 MITMVC.mp3]
Clip 2 [audio:Jane Kaczmarek Reads Strange Son 2 MITMVC.mp3]
Jane also helped to launch the book and did a public reading in Pasadena, this is what the author Portia Iversen had to say on her blog.
I just wanted to share some photos from my recent book event at Vroman's in Pasadena. It was a wonderful evening and my dear and loyal friend Jane Kaczmarek did an amazing reading from the book. I was deeply moved by her touching performance – but not at all surprised because I'd already heard Jane reading Strange Son for the audio book. Many friends and family members attended the book signing and afterward Jane and I caught up over a drink at a not-so-secret Pasadena haunt, the Hamburger Hamlet.
Photos from the event can be seen in our Gallery
Source: StrangeSon.com | Discuss this post in the FORUM