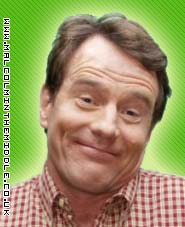 Bryan Cranston (Hal) has been named the 5th best physical comedian on TV by UnsoughtInput.com. A title that I'm sure many readers agree with.
5. Bryan Cranston – Who is Bryan Cranston? He's known as the dad (Hal) from Malcolm in the Middle, but astute viewers might also remember him as the "dentist who converted to Judaism just for the jokes" on Seinfeld ("Whatley!"). I realize it's odd to see Cranston up here near the top of the list, but while doing research (read: watching 6 seasons of Malcolm back-to-back) it goes without saying the Cranston is sitcom television's most talented and relentless physical comedian of the past 10 years. Granted, the entire television family of Malcolm does an amazing job of beating each other up (and other random characters) but Cranston shines as the most physical of the group. Most notable are his roller skating scenes (in which he reportedly did most of the "stunts" himself), his work in a Dance, Dance Revolution contest and his new hobby of race walking (note the fabulous costumes in each clip). Cranston is an all-around physical comedian on the show, giving a performance that completely defines "hapless boob." From flustered screaming to girly whining, Bryan Cranston currently holds the torch for best television physical comedian of the 21st century. Since his show has been off the air for a year now, let's hope Scrubs' Zach Braff (16) kicks it up a notch and decides to join a circus.
Source: UnsoughtInput.com | Discuss this post in the FORUM.