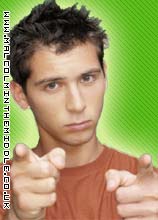 Justin Berfield (Reese) has moved on from his role as a "useless bully" in Malcolm in the Middle in a big way. Justin and Jason Felts formed J2 Pictures & J2TV in 2004 and quickly established themselves as a film and television production company with an eye for strong concepts and talent.
Their latest venture is the film "Blonde Ambition" and stars Jessica Simpson and Luke Wilson.
A young professional woman (Simpson) unwittingly becomes the pawn of two business executives in their bid to oust the head of a mega-conglomerate.
See the brand new trailer below.
[flv:https://www.malcolminthemiddle.co.uk/video/justin/Justin-Berfield-Blonde-Ambition-Trailer-MITMVC.flv 500 300]
A release date has not been set.
Discuss this post in the FORUM | Many thanks to RyeBeach.
Read the full press release for more information on the film by clicking 'more'

Making Faces For 'Blonde Ambition'

'I'm carrying the weight of the movie on my shoulders,' singer/actress says of first lead role.

By Jennifer Vineyard, with additional reporting by Edward Paige
March 2, 2007

Jessica Simpson is no dumb blonde — she knows she has to pay her dues to climb the Hollywood ladder.

So to become a full-fledged movie star, the singer/actress worked a few entry-level jobs — slinging some hash as a waitress in "The Dukes of Hazzard" and ringing up receipts as a cashier in "Employee of the Month" — but she's ready to be taken seriously with her next film, "Blonde Ambition."

"I don't want to sound conceited or brag or anything, but I really did do a good job," Simpson said shortly after the film wrapped. "I am so proud of myself."

"Blonde Ambition," due this summer, has been described as a remake of the '80s classic "Working Girl," which starred Melanie Griffith and Harrison Ford and earned Griffith an Oscar nomination. But Simpson's version is less a remake and more a reimagining of the movie's theme. "It's basically about a young woman's journey into the corporate empire," producer Justin Berfield told MTV News. "She starts at the bottom and works her way to the top."

That means Simpson is in plenty of humiliating situations as an Oktoberfest-style beer girl and a bike messenger. "There are so many Lucille Ball moments," Simpson said. "Dane Cook taught me how to do that; he used his body language a lot. And the women who do that, like Goldie Hawn or Meg Ryan, do that so well, and it just makes the comedy so much better. Jim Carrey is obviously the best at it; he does all the different faces. But I have so many different faces in this movie that I never knew I had before."

Helping Simpson get the laughs this time around are Luke Wilson (who she screen-tested with for "Dallas") and her old pal Willie Nelson, who co-starred as Uncle Jesse in "The Dukes of Hazzard" (see "Jessica Simpson — In A Bikini — To Wash The General Lee In 'Boots' Video"). This time, Nelson plays Simpson's grandfather.

Plus, Andy Dick — who had a lick-tastic time in Simpson's "Public Affair" video (see "Jessica Simpson Finally Goes 'Public' With Longoria, Seacrest In Ratner-Directed Video") and also appeared with her in "Employee of the Month" — thwarts Jessica's Katie character in her efforts to get noticed on the job. "Remember the Sigourney Weaver part, the mean boss?" Dick told MTV News, referencing the original film. "I'm her assistant. I'm more present than the boss. I'm the evil one. It's going to be good."

The mere thought of her insane co-star had Simpson smiling. "I love you, Andy, I love you so much, but he's crazy out of his mind!" Simpson laughed. "He's a genius, I believe that. He is just so great behind the camera and makes everybody on the set laugh so hard."

A little levity was definitely needed since Simpson started feeling the stress early on in the production. "The hardest thing about 'Blonde Ambition' was that I'm carrying the weight of the movie on my shoulders," she said. "I was in every shot, pretty much, and it was very time-consuming. You don't really understand until a week after you're done shooting, and you're like, 'Oh my gosh, I memorized all those lines! Wow!' "

Letting her own blond ambition guide her, Simpson's ready for the challenge of her next movie, "The Witness," which she plans to shoot by the end of March. And no, that's not a Harrison Ford remake either. "I don't want to be typecast," Simpson laughed. "But if I were, it would just make me want to prove myself even more."
UPDATE: DVD Release