I realize this thread is 11 years old, and no one's commented in here for 2 1/2 years, but I just noticed something:
New Neighbors:
Commandant Spangler is conducting a chorus for Oliver North's visit, and over Spangler's left shoulder a stage hand puts a card to block out the window light. In the reverse shot of Spangler, it's gone.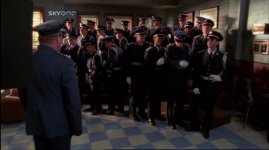 I love this kinda stuff.