Frankie Muniz (Malcolm) has recently been focusing back on acting and has been working on a new film project Pizza Man, as we have previously reported.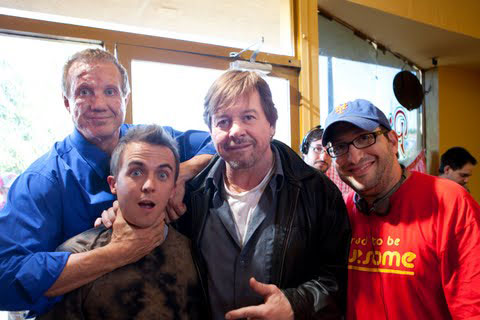 Today, KSiteTV have published an exclusive interview with Frankie, where he talks about the new project as well as his return to acting.
KSITETV: What made you choose "Pizza Man" as the movie that brings you back to acting, and what have you been up to?

MUNIZ: I've been off racing cars for a while, and I'm in a band now. I've been really busy trying to find some other things I'm into. I always said I would get back into acting, and I just didn't know when. It literally was a luck of the draw kind of thing. I called my manager for the first time in like four years, and like two weeks later the Pizza Man script came to me. I read it, and I really, really enjoyed the script. I thought it would be a lot of fun; a bunch of good guys working on it, and here I am. I'm having a really good time and I think we're getting some really good stuff.

I'm really happy to be back as an actor. I didn't think that I would miss it as much as coming back has reminded me that I did. So I'm really excited to be here.
It is particularly interesting that Frankie seems to have decided to return to acting in a very short space of time. It does now look fairly likely that his car racing aspirations might be on the backburner for some time, as he is also now playing drums for Phoenix-based rock band You Hang Up.
You can read the full interview at KSiteTV; they even promise more Pizza Man interview content over the next week.
Shooting on the new picture is happening throughout the month of April 2010, after which Frankie is set to return to Phoenix, Arizona to continue drumming with You Hang Up.
Source: KSiteTV