Justin Berfield (Reese) recently had a 'live tweet' event where he shared behind-the-scenes information and photos from the set of Episode 3 of the new show he is producing, Sons of Tucson. The live tweet event is now over, but you can follow him on Twitter — @justinberfield.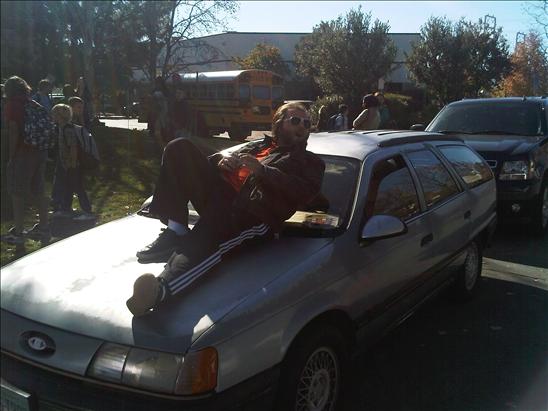 "those were Tylers glasses in the 1st scene.The sun was killing him and we thought they looked Snuffkin like."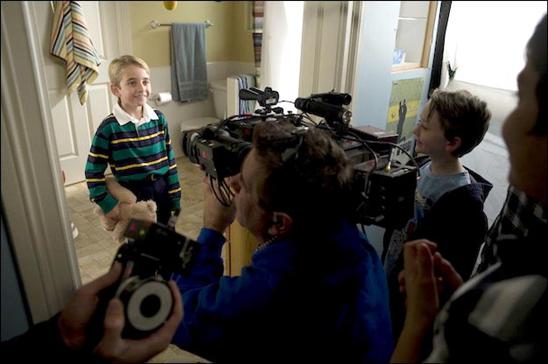 "Gabe AKA "Asskiss" is played by buddy Handleson. He appears in a later episode called "Kisses and Beads" "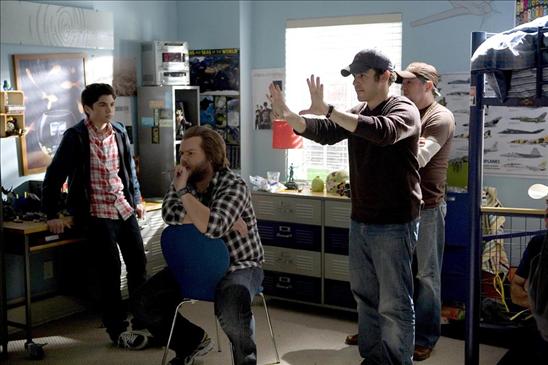 "Fred Savage directed this episode."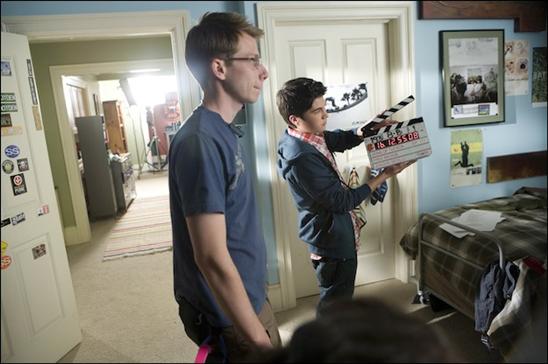 "In this episode the boys make a short film that required to fake "bad acting" Not easy!"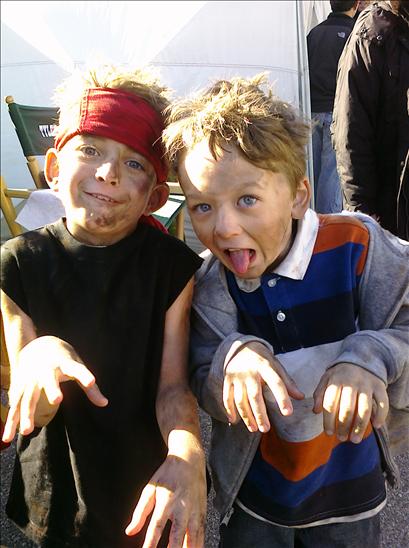 "We created the storm drain on stage and it leaked nearly collapsing the entire stage floor."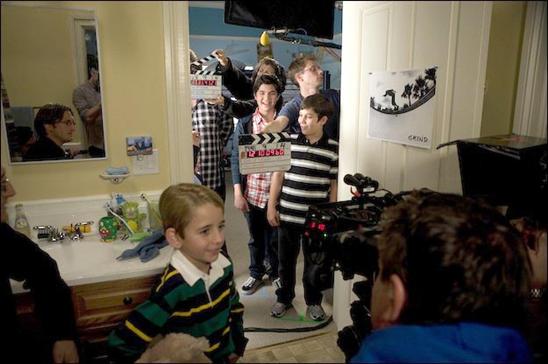 "HOPE EVERY1 ENJOYED #SONSOFTUCSON. LESSON: BE NICE TO ALPACAS, COPS, AND STEER CLEAR OF ILLEGAL VIAGRA!"
Sound advice from Justin there. You can see all these photos (plus a few more) in our Sons of Tucson Season 1 Behind the Scenes Gallery.
After the jump, read all of the Justin's questions and answers from the live tweet.
Questions & Answers
Note: most of Justin's answers are in capitals, so you can tell where the question ends and his answer begins
RT @BlackCat1986: @justinberfield how did you and jason meet and what made you wnt to make #SonsofTucson FAM FRIENDS, & WRITERS HAD GR8 IDEA
http://twitter.com/justinberfield/status/11227772161
RT @GAdams01: @justinberfield #SonsOfTucson are your fingers tired yet? HAH SORTA
http://twitter.com/justinberfield/status/11227716719
RT @katiemizanin: @justinberfield Do u think ull produce any other shows after this? ABSOLUTELY. JUST GETTING STARTED
http://twitter.com/justinberfield/status/11227669715
FACT: The Alpacas lovesick sound at the end was really one of the producers desperate groan. Be glad you didnt have to witness that!
http://twitter.com/justinberfield/status/11227646210
RT @ahbean: @justinberfield You saw that the Wall Street Journal gave SOT a favorable review?YES, THX WSJ
http://twitter.com/justinberfield/status/11227563383
RT @Hi_im_zoey: @justinberfield why were the original Brandon & Robby recast? SCHEDULING CONFLICTS AND CREATIVE CHANGE. MATT AND BEN R GR8
http://twitter.com/justinberfield/status/11227512605
RT @dontforgett: @justinberfield #SonsOfTucson what inspired you to go behind the camera? TO PRODUCE ENTERTAINING TV
http://twitter.com/justinberfield/status/11227467718
RT @stupified12004: @justinberfield #SonsofTucson what about the Malcolm cast you still friends with them all? YUP. THEY ARE FAMILY!
http://twitter.com/justinberfield/status/11227440701
RT @PerryHank: @justinberfield what is sons of tuscon??? TV SHOW ON FOX SUNDAY NIGHTS 9:30/8:30c
http://twitter.com/justinberfield/status/11227418317
RT @howeda7: @justinberfield I hope Fox has patience. Other then Malcolm That 70's they haven't had a decent live sitcom I HOPE SO
http://twitter.com/justinberfield/status/11227303596
RT @ItsKathyOk: @justinberfield Do you guys have Fun making #SonsofTuscon episodes? EVERY DAY…SERIOUSLY FUN SET
http://twitter.com/justinberfield/status/11227259089
RT @TorreyHam: More people should watch #SonsofTucson. It's a cute show SPREAD THE WORD
http://twitter.com/justinberfield/status/11227228980
RT @Micsters1121: @justinberfield You should get Justin Bieber to guest star. haha jk ; ) #SonsofTucson WHO'S BIEBER?
http://twitter.com/justinberfield/status/11227209425
It took 8 crew from 2 depts. to construct the mini city in the boys room. And 1 big shoe to bring it down….
http://twitter.com/justinberfield/status/11227188600
RT @BlackCat1986: @justinberfield do you think any of your old cast mates from Malcolm will be on #SonsofTucson NEVER KNOW. STAY TUNED
http://twitter.com/justinberfield/status/11227124811
RT @howeda7: Hey. Like the show. It grows on you over time. Are you and Jason co-executive producers or is one top dog? TAKES A TEAM
http://twitter.com/justinberfield/status/11227087918
RT @fatimalovesjb: @justinberfield is this your first show?:D FIRST SCRIPTED SHOW ON FOX
http://twitter.com/justinberfield/status/11226964686
There really are "Golden Tickets" even they dont "officially" exist. Anyone got one???
http://twitter.com/justinberfield/status/11226944447
RT @joeljamison:will email mr. Rice at fox!! Lots of us here in Hawaii love the show but we're the last 2 c it! 🙁 it's only 4:30 here. THX!
http://twitter.com/justinberfield/status/11226915707
RT @matty2207: @justinberfield What do u like being an actor or being a producer and being behind the cameras? I LIKE BOTH FOR DIF REASONS
http://twitter.com/justinberfield/status/11226893512
RT @AshMichelle831: @justinberfield are you the producer of Sons of Tuscon? whats your role/ YES. IM PART OF THE TEAM
http://twitter.com/justinberfield/status/11226778175
RT @KimberlyGoodwin: @justinberfield How would you feel getting Bryan Cranston to appear on this show? #SonsofTucson WOULD LOVE IT!
http://twitter.com/justinberfield/status/11226750403
RT @kimber23us: @justinberfield#SonsofTuscon How long does it take to make an episode? 5 DAYS PER EPISODE
http://twitter.com/justinberfield/status/11226739507
The Alpacas we used made themselves at home. Note: They are not potty trained.
http://twitter.com/justinberfield/status/11226714885
RT @joeljamison: can let FOX know how much we like the show so it will stay on the air!!? LET PETER RICE KNOW! HES MY BOSS!
http://twitter.com/justinberfield/status/11226655979
RT @matty2207: @justinberfield U need to have a guest appearance by Eric Per Sullivan!! ERIK WAS ON SET EVERY FRI. I THINK FOR THE FOOD HAH
http://twitter.com/justinberfield/status/11226509210
RT @kimber23us: @justinberfield#SonsofTuscon .Is SOT getting good reviews? ITS GETTING INCREDIBLE REVIEWS. FINGERS CROSSED
http://twitter.com/justinberfield/status/11226443293
RT @katiemizanin: @justinberfield How long do u think the show will run for… As long as malcom? IF YOU LIKE IT. TELL FOX
http://twitter.com/justinberfield/status/11226369006
RT @KristaVolpe: @justinberfield Is there a way to watch #SonsOfTucson online for free, streaming? HULU.COM AFTER AIRING
http://twitter.com/justinberfield/status/11226346193
RT @TorreyHam: tonight's episode was labeled #11. What was the reason for jumping ahead so far? JUST THE ORDER WE SHOT IN
http://twitter.com/justinberfield/status/11226330721
RT @BlackCat1986: @justinberfield can you give a little hint on what next weeks #SonsofTucson is like. SCHOOL BECOMES VERY SUSPICIOUS!
http://twitter.com/justinberfield/status/11226177420
RT @brett_e_Howard: #sonsoftucson was ron in anything else we might have seen b4 SOT? REAPER
http://twitter.com/justinberfield/status/11226144110
RT @pallavi101: @justinberfield #sonsoftucson Are all episodes going to be on iTunes for free? or just the first one. FIRST ONE RIGHT NOW
http://twitter.com/justinberfield/status/11226136693
RT @DBRPM17: #Sonsoftucson How much do the actors improvise? TYLER BRINGS HIS OWN CRAZINESS TO THE ROLE. HES AWESOME
http://twitter.com/justinberfield/status/11226113617
RT @KimberlyGoodwin: @justinberfield Is Sons of Tucson actually filmed in Tucson? #SonsofTucson NOPE. Santa Clarita due to $$
http://twitter.com/justinberfield/status/11226057219
RT @Hollibird: @justinberfield #sonsoftucson how many episodes this season? 13 this season.
http://twitter.com/justinberfield/status/11226029377
RT @CeddyBrewer: #SonsofTucson I know this has nothin to do w/ the show but did u play Reese on Malcolm in the Middle I DID
http://twitter.com/justinberfield/status/11225999281
RT @walt773563: #Sonsoftucson Great show Justin, Want to ask you, do you have a chair w/exective producer YES THEY ARE GREEN
http://twitter.com/justinberfield/status/11225935314
RT @rell_b: @justinberfield are you going to be in #SonsofTucson..THE SEASON FINALE I MAKE A LITTLE APPEARANCE!
http://twitter.com/justinberfield/status/11225895218
RT @stupified12004: @justinberfield #SonsofTucson how did you come up with the gay cop idea..WRITERS THOUGHT IT WOULD BE A GOOD TWIST
http://twitter.com/justinberfield/status/11225870150
RT @1Markanthony: #SonsofTucson ,btw I definately didn't know it was illegal to have a bunch of viagra..FROM MEXICO IT PROB IS
http://twitter.com/justinberfield/status/11225843542
RT @ChadB72: #SonsofTucson Seems like I notice lots of little musical references in SOT… YOU ARE RIGHT..GOOD EAR
http://twitter.com/justinberfield/status/11225797517
RT @Micsters1121: @justinberfield #SonsofTucson Who's your favorite character??–I like them all obviously. But you cant deny that Ron rocks
http://twitter.com/justinberfield/status/11225694592
RT @bstudie: #SonsofTucson Will Fred Savage be directing more episodes? Fred was great. If we are renewed wed love to have him back.
http://twitter.com/justinberfield/status/11225544341
RT @ChadB72: #SonsofTucson So how awesome is it to have Frank Dolce in the show! That kid rocks. …hes a really talented kid!
http://twitter.com/justinberfield/status/11225389687
RT @jennifersym: @justinberfield hey! big fan! what was you favorite part of the episode?…When Ron discovers theres more than porn online.
http://twitter.com/justinberfield/status/11225315929