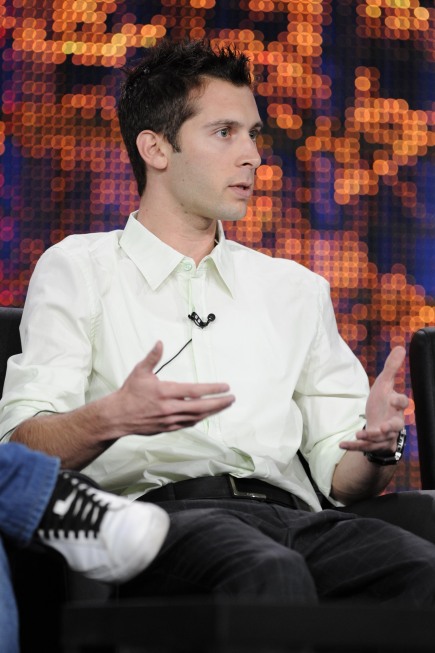 Justin Berfield (Reese) has been working as one of the producers of Sons of Tucson, a new family comedy on FOX that also features Todd Holland on the production team, one of the key people behind Malcolm in the Middle. And like Malcolm, it focuses around a group of brothers — in this case they need to find a 'dad for hire' in order to stay together.
The Sioux City Journal have a really interesting article/interview with Justin on his experience of being a child star on Malcolm, how he came to be interested in working behind the camera and how his experience with Malcolm in the Middle (and particularly being such a young actor) is very important to his current role on the new show.
During the first year of "Malcolm," Berfield tried to keep his hand in both worlds. "I went to a regular public high school and it was extremely difficult. I felt I was constantly behind because the teachers didn't give you your school work on time. I was constantly frustrated."

The next year, he switched to an online school and worked at his own pace.

…

Gradually, his character — the rebellious Reese — got more screen time. Eventually, Berfield became adept at behind-the-camera work. "I give full credit to Linwood (Boomer, the show's producer). He helped me. And whenever I needed a personal day off, he made sure I got it. He understood it was a job. But he also realized you've got to give a kid time to be a kid."

Now, he's doing the same with "Tucson's" sons. He sees himself in Matthew Levy, one of the show's stars, and he figures Levy will be interested in life behind the camera someday, too. "He asks questions. He wants to know why we do what we do. That's similar to what I did."
It's a really interesting read if you're interested in his experience behind the scenes of Malcolm, or Sons of Tucson, or just the unique challenges involved with working with young actors.
Sons of Tucson premieres in the US on Sunday, March 14 at 9:30/8:30 Central on FOX.
TV: 'Malcolm' star produces own family show
by Bruce R Miller – 5 March 2010 – Sioux City Journal

LOS ANGELES — Justin Berfield wasn't just the other kid in the middle on "Malcolm in the Middle." He was the one who decided there was going to be a life in show business after the series ended.

"Instead of running to my trailer, I would stay on set," the 24-year-old says. "I'd hang out with the grips and ask a lot of questions."

Like a latter-day Ron Howard, Berfield learned about the business side of entertainment. "He didn't (mess) around like other people in the cast," says director Todd Holland. "He always was very serious."

Armed with considerable knowledge, Berfield decided to take the next step and produce.

This month, his latest series, "Sons of Tucson" premieres. Like "Malcolm in the Middle," it showcases the antics of brothers. In this case, they're three enterprising boys who pretend they've got a father if they want to stay together. They hire a "dad" and create a life for themselves in Tucson.

Berfield sees the similarities between shows. He also knows the pitfalls.

The younger the actors, the shorter the work hours," he says. "We're limited in the amount of time we have them on set." Because those young actors have school obligations as well, "they're actually balancing two jobs. They're waking up before their friends. They're on set all day long. They're going home from work when their friends are having fun. They grow up much faster than other kids."

During the first year of "Malcolm," Berfield tried to keep his hand in both worlds. "I went to a regular public high school and it was extremely difficult. I felt I was constantly behind because the teachers didn't give you your school work on time. I was constantly frustrated."

The next year, he switched to an online school and worked at his own pace.

Because he wasn't the star of the show, Berfield also didn't have to fend off the taunts of other teenagers. "I stayed out of the public eye as much as possible. I was never the guy going to the clubs, being caught with underage drinking or things like that. I decided early on I wanted to be known for my work, not who I was out with at parties."

Gradually, his character — the rebellious Reese — got more screen time. Eventually, Berfield became adept at behind-the-camera work. "I give full credit to Linwood (Boomer, the show's producer). He helped me. And whenever I needed a personal day off, he made sure I got it. He understood it was a job. But he also realized you've got to give a kid time to be a kid."

Now, he's doing the same with "Tucson's" sons. He sees himself in Matthew Levy, one of the show's stars, and he figures Levy will be interested in life behind the camera someday, too. "He asks questions. He wants to know why we do what we do. That's similar to what I did."

Berfield, however, knew early on stardom can be fleeting. "There's no book that tells you how to be a kid on a sitcom," he says. "You just have to do it."

Because "Malcolm" was a popular show with teenagers, kids were "generally positive. Some are a little jealous because they thought you didn't have to go to school and you could afford to buy everything."

Fame, though, should never be a career goal. "That's the wrong approach…you're not always assured of getting another show."

When a successful series ends, "people come out of the woodwork, telling you what they can do for you. Ninety-nine percent of the time, these aren't the people you should listen to. You need to listen to people who were around before you got on a show."

Though he did get other acting work (he's even in "Tucson" as a neighbor), Berfield sees his future behind the camera. "I like having a little more control over my life. I don't know how I got two shows (he was also on "Unhappily Ever After"). There are so many variables that come into play."

Today, Berfield says, he talks regularly to Erik Per Sullivan (the show's Dewey, who's in college) and has run into Bryan Cranston at industry events. The others, he sees occasionally. "It's hard because we're all doing our own things. It's just the nature of the business."

To make sure he passes on the nurturing Boomer gave him, Berfield says he told his young actors to talk to him whenever they have problems with a situation or a script. "I know there are going to be issues," he says. "I've been there. And I've done it."
Source (image and quote): Sioux City Journal