We all hope you have a great day Erik. In the UK (where I'm writing this) he could be getting legally drunk but I'm sure Erik won't be doing anything like that till he's 21…
For those who don't know Erik has been keeping totally out of the media for the last 2 years. His priority being school, however he'll be done with that now and be heading to college soon (I wonder where?). We wish him all the best with this next stage in life.
I totally understand and respect Erik's right to privacy and its not like we have paparazzi on hand to track him down but I can't help but wonder what he looks like these days. I'm not alone with this, most recently and notably one of the UK's most popular gossip/entertainment magazines Heat did a child star 'Where are they now?' feature and included Erik.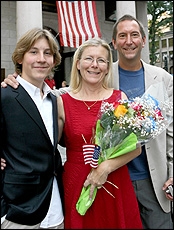 Interesting to see they didn't choose one of the Season 1 pictures but instead one of him looking older in Season 4. However more notable, this magazine which only came out this week is using a 'Now' picture from 2.5 years ago (when Erik was 15!), it was taken at the première of Arthur And The Invisibles January 7, 2007.
But we can't really blame them, the newest picture I know of is Erik and parents from August 30, 2007. So really we don't know what he is looking like these days, if anyone has newer (avoid this Google indexing mistake) we'd love to see it, but please no stalking!