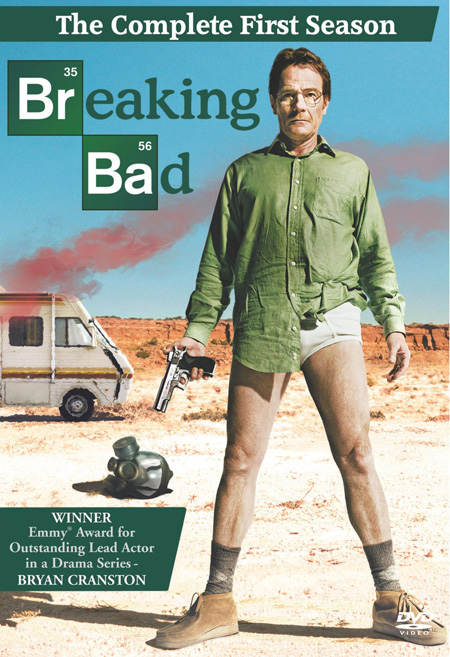 We reported previously that the season 1 DVD of Breaking Bad was expected to be released January 20, 2009. However that has now changed to February 24 March 3 with a semi-official alert sent to retailers. Above is the cover art which is subject to change.
So far we know its as a 2-disc set running 346 minutes, featuring episodes (and some unknown special features) presented in anamorphic widescreen video with English – Dolby Digital 5.1 audio and French subtitles. Pre-order from Amazon now!
Breaking Bad has got three nominations from the Writers Guild of America – one for best new series and and two for best episode. Results come out February 7, 2009.
UPDATE: Official press release is now out.
DVD Special Features Include:
Digitally Remastered Audio and Video
Widescreen Presentations
Featurette: Making Breaking Bad
Featurettes: Inside Breaking Bad (14 Featurettes)
Deleted Scenes
Vince Gilligan's Photo Gallery
Commentary on Pilot and "Crazy Handful of Nothin" Episodes
Screen Tests
AMC Shootout: Interview with Vince Gilligan and Bryan Cranston
Episode Recaps
Audio: English (Stereo), Spanish, Portuguese
Subtitles: French, Spanish, Portuguese
Bonus Previews
Closed Captioned
Source: tvshowsondvd.com & AMCTV.com