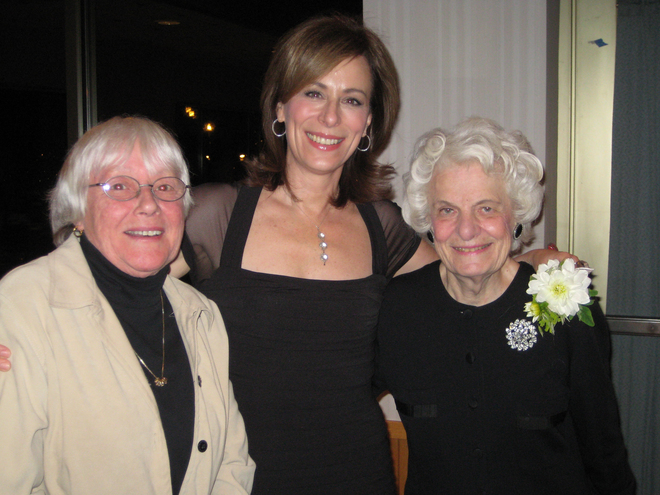 Earlier this month Jane and family attended a local event to where Jane grew up. Jane is pictured with old school teacher (left) and her mother Evelyn Kaczmarek (right).
[Gloria Bartz] surprise presence at the event blew away that former student, TV actress Jane Kaczmarek, who remembered her former teacher as "Miss Raimann." Kaczmarek said she hasn't seen her teacher since second grade and reintroduced her to her parents, Ed and Evelyn Kaczmarek, who were also at the dinner.

Kaczmarek, a well-known TV mom from her years on "Malcolm in the Middle," was in town with her three kids who were on a school break because of a teacher convention back in Pasadena, Calif. While visiting Grandma and Grandpa, Kaczmarek said, the kids enjoyed bowling, ice skating and playing gin rummy. Her appearance at the Park People dinner was her second fund-raising event during the long weekend home. She says her appearance was a result of an interview she gave in which she noted that one of her favorite childhood memories was playing at Jackson Park near the south side home where she grew up.

There was a large contingent from the Kaczmarek family on hand as well, including her aunt Ruth Wisniewski, Ruth's husband, Al, and cousins Sherry Walberg and Lynn Steinle and their husbands, Dave Walberg and Tim Steinle.
UPDATE:
She spoke to the audience about her Polish heritage, her family, and her fond childhood memories of Milwaukee County Parks.
[audio:Jane-Kaczmarek-Park-People-Speech-Nov-08-MITMVC.mp3]
"To this day, one of my favorite summer memories is listening to the Braves or the Brewers on the car radio and driving home from the band concert at Humboldt Park. Something just said happy, safe summer memories when you were in the car, with the Braves on the radio, coming back from Humboldt Park,"

"My children love Milwaukee. I brought my three children back [on this trip] and it's kind of their favorite vacation spot, even when it's 38 degrees and raining," she said with a laugh.

Jane also recalled being a baton twirler, marching in the South Shore Frolics parade.

"Make the Milwaukee County Parks a real destination and a real part of your heart. My children will thank you, my grandchildren will thank you, and my grandparents from Poland will thank you," she said, teary-eyed with emotion, to a standing ovation.

Jane joked that she was literally "here" because of the Milwaukee County Parks. Her father Ed Kaczmarek was a lifeguard at Jackson Park pool in 1948 while her mother Evelyn Gregorski, Jane said, "had the illustrious job of checking toes…I don't know if it was ringworm or athlete's foot, or what in the heck they were checking for!-but when I was a kid growing up…and even before…when I was a twinkle in my father's eye, toes had to be checked before you went into the swimming pool. And that was my mother's job."
Jane donated her appearance at the Green Gala as well as the $1,000 honorarium she received the previous evening from Fuel Milwaukee to Park People.
See more photos of Jane from the event in our GALLERY.
Source: jsonline.com & bayviewcompass.com