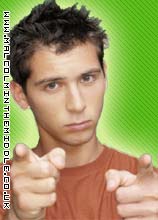 Justin Berfield is producing a new film based on the book, An Invisible Sign of My Own.
Plot Summary: This compelling adaptation of the award winning novel by Aimee Bender follows 19 year old Mona Grey as she finds solace only in numbers after learning of her father's sudden illness.
Originally America Ferrera was to star but she was has been replaced by Jessica Alba. Filming started in October.
Yesterday Justin commented on his official forum saying;
hey guys!! happy tgiving week to everyone. i was in nyc for the past month. Invisible Sign should be a great film. taking the next week off and am headed to mexico to spend Thanksgiving. (i know, weird, but my family are all down there so i am headed to meet them). Hopefully i get turkey and not tacos! hope all is great with everyone….more later, justin
No release date time frame has been announced as of yet. We'll keep you posted as to that and also further casting.
Thanks to RyeBeach | Source: Variety.com & IMDB