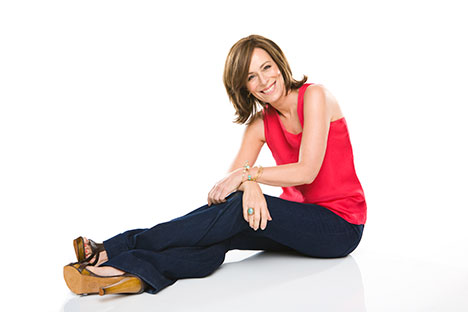 In Step With Jane Kaczmarek
By James Brady

'I have the sweetest deal in showbiz," said Jane Kaczmarek of her role in a legal drama premiering in September. "When I started playing the mom on Malcolm in the Middle, I had a baby of my own and then two pregnancies in seven years, and I worked a long, 14-hour day. Now I work two days per episode."

This fall she will portray a tough, elegant, but slightly wacky judge on TNT's Raising the Bar. In her new show, an ensemble cast portrays former law school pals now practicing as adversaries in criminal court.

The delightful Jane, who 24 years ago was on Hill Street Blues, earned seven consecutive Best Actress Emmy nominations for Malcolm. She grew up in Milwaukee with a Polish-American teacher mom and a dad who negotiated contracts for the Defense Department. After working her way through the University of Wisconsin, she went off to Yale's famed drama school, and soon began landing juicy roles on Broadway and TV.

"After Malcolm, I got offers and just turned 'em down," Jane said. "Success is the rent we pay for living. There's always insecurity in acting, but I thought I'd achieved so much. I simply didn't have the desire anymore. Then Steven Bochco called me about Raising the Bar." In series drama television, Bochco is considered something of a genius, with Hill Street Blues, L.A. Law, and NYPD Blue on his resumé. "He's a storyteller, and there's a great, old-fashioned feel to this show," said Jane, "and I mean that in a positive way."

And though Kaczmarek takes an amused and skeptical view of the world, rattling off one-liners with the best of them, she's also thoughtful and analytic. "Our legal system is the best there is, but it doesn't always work," the actress told me. "I'm a good girl with a middle-class background who never rubbed up against criminal justice, but I'm learning a lot."

Running between the set and her kids' activities, how does she stay in shape? "Pilates," she replied. "Also recumbent exercises, because I had both hips replaced." Then, laughing about her own ethnic roots, Jane cracked, "Do you know what they call hip replacements and varicose veins in Milwaukee? 'Polish plastic surgery.'  "

Jane and her actor husband, Bradley Whitford (West Wing), live with their children in Pasadena, which she calls "heaven, it's a community so removed from showbiz, near Cal Tech." For an actress, she sets ironic ground rules for her children: "We have one TV in the house, and during the week the kids don't watch. There's so much chaos in the house with children, who needs more on TV? We relax the rules on weekends and in summer, and they can watch things like The Pink Panther and a boxed set we have of Get Smart."

Born Dec. 21, 1955, in Milwaukee, Wis. Married to Bradley Whitford since 1992, with three children: Frances, 11, George, 9, and Mary Louisa, 5.
More of the photoshoot in our GALLERY.
Thanks to MalcolmFun | Source: parade.com