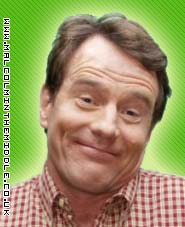 Bryan Cranston told nationalledger.com that he's one of the latest celebrities to go "green" as he spent time off during the writer's strike working on an environmentally friendly home.
I'm designing a house for my family. It's a vacation house. I'm going to draw the design myself and have it built in green with solar panels, recycled materials and things like that.
In other unrelated Cranston news that we didn't get round to posting before:
Bryan presented at the Independent Spirit Awards in February.
In March he participated in the annual A Night at Sardi's in LA to benefit The Alzheimer's Association of the California Southland, at the Beverly Hilton Hotel, performing selections from Bye Bye Birdie.
In April he presented honors for community service and volunteerism at the 2008 Spring Luncheon of the Down Syndrome Association of Los Angeles and the National Down Syndrome Society.
In May he attended the 13th Annual Congressional Breakfast on Capitol Hill for National Missing Children's Day, fifteen law enforcement officials from throughout the U.S. were honored.
In August he attended the Duke City Shootout competition where scripts are filmed and edited and premièred in 1 week. Cranston, who said he and his family love Albuquerque and have purchased a house in the city, called the whole concept of the Shootout "brave" and asked that the filmmakers, once they're famous and working regularly, remember to hire him.
Source: nationalledger.com, nypost.com, pr-inside.com, bizjournals.com & variety.com.