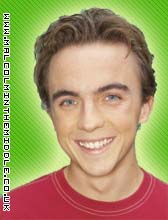 Frankie Muniz and his love life is an ever continuing drama, however we now have the confirmation from Frankie that he is no longer engaged to Jamie. See below two articles from People.com.
Frankie Muniz, perking up while running into his ex-fiancée, Jamie, at Hyde in West Hollywood. While the former Malcolm In the Middle star was hanging quietly with his guy friends, clubgoers tell us his mood brightened when he made his way over to his ex, putting his hands around her waist as they flirted.
January 31, 2008 – It appears Frankie Muniz isn't quite over his ex-fiancée Jamie Gandy.

The actor (who recently ran into her at West Hollywood nightclub Hyde), poured his heart out to PEOPLE Wednesday at a press conference to talk about his new job as a driver for 2008 Pacific Coast Motor Sports team.

But when talk moved to romance, Muniz, 22, explained: "I am not engaged anymore. I'm still with her … kinda."

"It's a very awkward situation," he adds. "But we're best, best, best friends. And if there was anyone in the world that I wanted to be with, it'd be her. With the racing, it's very difficult, the traveling around."

Muniz, who appeared at the Hard Rock Café in Universal City for Wednesday's press conference, is in his third year as a professional racecar driver, and second year with the team. But what does he think of his fellow celebrity racecar drivers?

"I don't want to sound conceited, but I don't think there has been an actor or celebrity-turned-racecar driver that has made it as high up on the racecar circuit as I have," he says. "So I don't think there's anyone who can keep up with me. And that's just me being honest"

"I want to race Michael Schumacher, seven-time world champion. And I can compete with him."
There have been many comments on the internet after Frankie said he was the most "high up" celebrity turned race car driver. They claim he is completely incorrect – Looking at the facts that seems to be the case. However I think it's either a miss quote or he just didn't think what he was saying through.
Source: People.com | Thanks PBUNDY | Discuss in FORUM