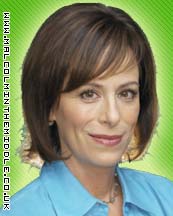 Jane Kaczmarek starred in the Ojai Playwrights Conference's annual winter gala performance on January 19. Entitled An Intimate Pique, It was said to be an evening of dramatic material by America's leading playwrights. Pique means arousal or excitation. They had scenes that look behind the curtain to the intimate world of backstage affairs both literal and figurative. Scenes where penned by Bill Cain, Jon Robin Baitz, Julia Cho and Charlayne Woodard.
Click 'more' to read an interview with Jane by Mommy Track'd about work and family life.

You are a working mom and you played one on TV during the 7 year run of MALCOLM in the Middle. That must have been a weird vortex of life imitating art imitating life. Did you and Lois approach working motherhood in a similar way?

THE SEVEN YEARS MALCOLM WAS ON THE AIR WERE EXTREMLY HECTIC. I WAS PREGNANT WITH MY SON THE FIRST SEASON AND WITH ANOTHER DAUGHTER A FEW YEARS LATER. I WAS GRATEFUL THAT THE CHILDREN ON THE SHOW WERE OLDER THAN MINE BECAUSE IT WAS EASIER TO KEEP TRACK OF WHO WAS WHO. I DID HAVE TO REMEMBER TO TURN THE VOLUME DOWN WHEN I CAME HOME. AND THE DAY MY SON REFERRED TO ME AS MOM SIR, I KNEW I HAD TO TONE IT DOWN EVEN MORE. COMPOUNDING THE CHAOS WAS THE FACT THAT MY HUSBAND'S SHOW (THE WEST WING) COINCIDED WITH MALCOLM'S RUN. WE HAD NANNIES STANDING BY AT ALL HOURS OF THE DAY BECAUSE WE RARELY KNEW WHAT OUR SHOOTING SCHEDULES WERE. HAVING PEOPLE AROUND TO HELP WAS A REAL DIFFERENCE FROM THE WAY LOIS RAN HER HOUSEHOLD ON MALCOLM.

You and your husband are high profile, celebrated examples of the hectic working parent lives our readers live. Describe a day in the life during the years that you were doing Malcolm in the Middle and your husband was doing The West Wing. Who picked up the kids from school? Did they visit the set on a regular basis?

YES, LIFE WAS VERY COMPLICATED. I DIDN'T WORK AS LONG HOURS AS BRAD. USUALLY NOT MORE THAN A 12 HOUR DAY WHEREAS BRAD OFTEN WORKED 15 HOURS A DAY. AS MUCH AS I ENJOYED MALCOLM, I JUST WANTED TO COME HOME AS SOON AS I COULD, SO I RARELY HAD THE KIDS VISIT. BRAD, ON THE OTHER HAND WOULD, HAVE A NANNY DRIVE THEM TO THE SET FOR A VISIT. HE OFTEN LEFT BEFORE THEY WOKE UP AND CAME HOME AFTER THEY WERE ASLEEP, SO IT WAS OFTEN THE ONLY WAY HE COULD SEE THEM.

What have you done with your time since the show ended in May 2006? How did your kids feel about the fact that the show is over?

MY DAUGHTER FRANCES ONCE TOLD ME THAT THE BEST NEWS I COULD GIVE HER WAS THAT MALCOLM HAD BEEN CANCELLED. SHE SCREAMED WITH JOY THE DAY THEY PULLED THE PLUG. I NOW MAKE SURE I'M HOME TO GET THEM DRESSED AND FED IN THE MORNING AND TO BRUSH THEIR HAIR AND GET THEM TO SCHOOL. AND I'M HOME AFTER SCHOOL TO TAKE THEM TO LESSONS AND PRACTICE AND HAVE SUPPER WITH THEM AND PUT THEM TO BED. JUST LIKE A REAL MOM! I ACTIVELY TURN ALL JOB OFFERS DOWN IF I CAN'T MAKE THEM WORK WITH MY SCHEDULE. I WAITED REALLY LONG TO HAVE CHILDREN, ALL THREE WERE BORN IN MY 40'S AND I WANT TO SPEND AS MUCH TIME WITH THEM AS I CAN.

What projects are you working on now?

I'M ABOUT TO START A LEGAL DRAMA FOR STEVEN BOCHCO ON TNT. STEVEN AND I WORKED TOGETHER ON HILL STREET BLUES 25 YEARS AGO AND HE REALLY UNDERSTOOD MY DESIRE TO MAKE MY HOME LIFE MY PRIORITY. I WAS OFFERED A VERY ACCOMODATING WORK SCHEDULE AND AM LOOKING FORWARD TO PLAYING WITH GROWN UPS ON A LIMITED BASIS.

What inspired you to start Clothes Off Our Back? How do you have time to launch a non-profit in addition to your consuming work schedule and family life?

I WAS OVERWHELMED WITH THE AMOUNT OF WASTE IN HOLLYWOOD. WHEN YOU ARE A CELEBRITY, YOU ARE SHOWERED WITH SO MANY CLOTHES AND ACCESSORIES AND PUBLICITY THAT YOU DON'T NEED. CLOTHES OFF OUR BACK SEEMED A GOOD WAY TO RAISE MONEY FOR CHILDREN'S CHARITIES WITHOUT BOTHERING CELEBRITIES TO SPEND MORE OF THEIR PRECIOUS TIME. WE LIKE TO SAY THERE ARE SO MANY CHILDREN IN NEED AND SO MANY CLOTHES THAT YOU'LL NEVER WEAR AGAIN. WE'RE NOT ASKING FOR YOUR TIME OR YOUR MONEY, BUT TO JOIN US AS WE GIVE THE CLOTHES OFF OUR BACK. I HIRED A BRILLANT YOUNG WOMAN NAMED MICHEL SCHNEIDER TO RUN OPERATIONS FOR ME AND TOGETHER WE'VE RAISED OVER $2 MILLION SINCE WE STARTED IN 2002.

There are only so many hours in a day — but when you do have time for a guilty pleasure, what is on the top of your indulge list?

I'M AFRAID I'M REALLY BORING. I LOVE DOING JIGSAW PUZZELS AND HAVE A MYRIAD OF ART PROJECTS I'M WORKING ON, USUALLY WITH JON STEWART OR HBO'S IN TREATMENT ON THE TV IN THE BACKGROUND.

What is your best advice to our readers who are struggling to manage the daily tug of war between work and family?

I CAN'T STRESS HOW IMPORTANT IT IS TO TURN OFF THE TELEVISION! WE HAVE ONE TV IN OUR HOUSE AND IT'S NEVER ON UNTIL THE KIDS GO TO BED. MY KIDS STAY FOCUSED AND ACTUALLY ENJOY PLAYING GAMES AND WITH EACH OTHER. THEY ARE STILL SMALL, SO I CAN GET AWAY WITH THIS. ALSO, THERE'S NO SUCH THING AS HAVING IT ALL. I HAVE FOUND I'M SO MUCH HAPPIER SAYING NO AND KEEPING MY LIFE AS SIMPLE AS POSSIBLE. JUST BECAUSE YOU'RE FREE DOESN'T MEAN THAT YOU'RE AVAILABLE.

What do you think are the best and worst things about being a working mom? Do you have a worst working mom moment? A best?

THE WORST THING ABOUT BEING A WORKING MOM WAS SCRATCHING MY CHILDREN'S BACKS AT NIGHT AND HAVING THEM ASK WHETHER THEY'D SEE ME AT BREAKFAST. NO. WHETHER THEY'D SEE ME THE NEXT NIGHT AT BEDTIME. NO. BEING AT HOME WITH MY CHILDREN MAKES ALL OF THE TINSEL OF THIS TOWN PALE BY COMPARISON.

MY BEST MOMENT IS WHEN I'M IN MY GIANT BATHTUB WITH ALL THREE KIDS. WE CALL THIS PLAYING HIPPOS IN THE RIVER AND WE SING OUR THEME SONG.
Source: Playbill & mommytrackd.com | Discuss in FORUM