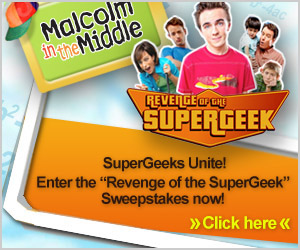 The MITMVC and FOX have teamed up this week to promote Revenge of the SuperGeek. Malcolm in the Middle will be on FOX all this week and you have a chance to win some 'Geektastic' prizes.
Read below for more details.
THIS IS AN ADVERTISEMENT

MALCOLM IN THE MIDDLE "REVENGE OF THE SUPERGEEK" WEEK

Do you love Malcolm? Here's your chance to prove it! You might even win a sweet computer system in the process!!

Participate in the REVENGE OF THE SUPERGEEK

How can you help? Well, first, tune into "Malcolm in the Middle" all week long from Monday, February 4 through Friday, February 8. Second, log on to www.SuperGeeksUnite.com and enter each day to win one of four geektacular computer packages or one of 25 runner up prize packs.

Episodes associated with the REVENGE OF THE SUPERGEEK promotion include:

PILOT
Malcolm's life as the middle brother in an eccentric family becomes more complicated when he is placed in a class for "gifted" students at school.

KRELBOYNE PICNIC
When his whole family attends a Krelboyne family picnic, Malcolm dreads his performance in the event's "Academic Circus" will make him look like a freak.

HUMILITHON
Malcolm suffers extreme humiliation during his first week as a high school freshman.

ACADEMIC OCTATHLON
Malcolm competes in an academic octathlon, but hates the intensity of the other competitors.

GRADUATION
Malcolm graduates from high school and prepares for his eminent next step in life: Harvard University.

Log on to www.SuperGeeksUnite.com for official rules and prize details.

NO PURCHASE NECESSARY. Void where prohibited. Open only to permanent, legal residents of the 50 United States and the District of Columbia who are 18 or older and who have Internet access as of February 4, 2008. Begins February 4, 2008 and ends February 10, 2008. To enter and for official rules and prize details go to www.supergeeksunite.com.
UPDATE: Promotion has ended.
Discuss in FORUM