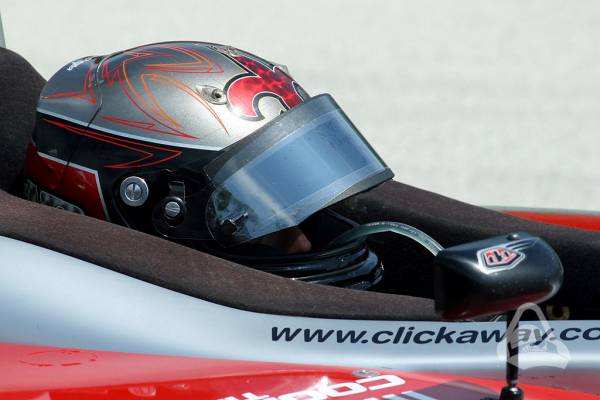 There hasn't been a lot of news recently for Frankie and racing, thats mainly because he been on a break as its out of season and as loyal reader will know he's been keeping fit for the new season and evaluating his options for his 2008 sophomore season (basically deciding what team he wants to go with)
He raced at the Thunderhill Raceway earlier this month: it was his second test with US RaceTronics.
Seneviratne (RaceTronics team owner) discussed the test, "We had two great days at Thunderhill this week, both drivers completed right around 250 trouble-free miles over the two day test." He continued, "This test was a good opportunity for us to try the updates the Atlantic Series has implemented for 2008. We had a steady day of rain on Thursday, so both Carl and Frankie had the opportunity to complete nearly 125 miles in the rain. Obviously this was valuable because you cannot control Mother Nature and we will race in the rain this year. We were actually lucky to log test miles in those conditions and it was great practice for both drivers. We are looking forward to the Series first open test at Sebring next month."
Click 'more' to read an interview from last month with Frankie at Road America where he did some practising. See photos in our GALLERY.
Source: PaddockTalk.com | Discuss in FORUM
Changing Gears – Frankie Muniz
By: Frankie Muniz and John Vatne
12/18/07

Frankie Muniz is not the first actor to strap on a helmet and climb behind the wheel of a racecar, but what makes him different is his attempt to make a career change from actor to professional driver. Unlike others who race as a hobby in a GT series, Muniz spent 2007 competing in one of the most challenging developmental open wheel series, the Champ Car Atlantic series. He may not have been at the front of the pack in 2007, but he has the correct approach and dedication to the sport. He knows what he needs to improve on to climb up the timing and scoring charts.

We talked with Frankie Muniz on the Friday morning of the Champ Car/ALMS weekend at Road America.

Mecca of Speed: How did the car feel on track this morning?

Frankie Muniz: This is my first time at Road America, and it's a high commitment track. Everything is pretty high speed, turn one is around 115 mph. There are a lot of flat corners. They are not easy corners; they are the type you have to work up to.

The first 20 minutes I was finding the line around the track, after that I started to push the car. I had pretty bad understeer so we made some changes, which made the car a lot better.

I was last this morning, but I feel pretty confident we will do better in qualifying later today and tomorrow. I spent this morning focusing on where I needed to go to get around the track. Now we know what we need to go faster, so things should be good.

Mecca of Speed: How was the transition moving up to the Atlantic series this year with more power and down force compared to last season when you were racing in Formula BMW?

Frankie Muniz: It's definitely a big jump. It's not easier driving an Atlantic, it's a higher level of commitment and competition. The competition level is probably about as high as you can get in the sense of how good everyone one is in the series.

I have learned so much this year and I'm looking forward to next year. What I've learned this year I can take into next year and have more confidence at the start of the season.

Mecca of Speed: Do you have plans to be back with Jensen Motorsports next season?

Frankie Muniz: There is nothing official yet. I'm talking to a bunch of teams working to find the best deal, but I've definitely enjoyed being with Jensen for the past two years. I love the guys and would like to be back, but we'll see what happens.

Mecca of Speed: What type of training and conditioning have you undergone for your move up to the Atlantic series?

Frankie Muniz: I work with a trainer daily, lifting to improve my strength and conditioning. I've put on about 20 pounds this year.

Mecca of Speed: You must have weight next to nothing when you started racing.

Frankie Muniz: Yah, my first weigh in for Formula BMW last year, with my kit was 103 lbs. Right now I'm at 128 or 129 with all my gear so that's pretty good.

I still want to gain a little more to be stronger and have greater endurance.

People don't realize that driving one of these cars is super physical; it's nothing like being in a streetcar. I've played every sport out there and nothing compares to this. I can play an entire basketball game start to finish, as hard as I can, and it doesn't compare to how tired I am at the end of a race.

My plan is to continue building and getting stronger so I can hold onto the car more. Right now I feel I'm at about 60% of where I want to be at for next year.

After a full season and knowing how I feel at the end of a race, I want to be in better shape next season. Physically I've made huge improvements compared to last year.

Formula BMW races are around 23 minutes and I was dead at the finish. I thought there was no way I was going to be able to finish an Atlantic race. Now I can finish no problem. I'm tired, but I want to get things to where I can do it strong start to finish.

If I go to Champ Car the races are 1:45 in a heavier car. I want to be ready for that.

Mecca of Speed: Are you are building up the physical endurance to prevent the mental mistakes that come with fatigue?

Frankie Muniz: For sure, even mentally you get tired because you can't breathe any more. I want to be able to go the distance and not have to ask how much time is left in a race. That is what I do now, I'll ask "How much time is left" and they reply "25 minutes" and it's "What! I haven't even gone half way?"

Mecca of Speed: Have you been studying any drivers, trying to pick up the nuances of what gives them the extra edge on the track?

Frankie Muniz: It's definitely been a help watching the Champ Car drivers and talking with them over the year. I have the skill of driving and I know what I'm doing, the last piece of the puzzle is commitment and confidence in myself.

I'm really good in the technical corners; it's the high-speed corners that I have to develop a 100% commitment to. I've learned how to drive, now I need to have more confidence to go faster.

Mecca of Speed: Coming through the Carousel and going into the Kink must be one of those commitment areas of this track this weekend.

Frankie Muniz: It is, but I've done it flat since my second lap. The team told me to take it flat out, to just do it.

It's more the corners where you have to brake and downshift but that are still really fast. When I hit the brakes for a fast corner it's harder to get off the pedal and maintain the speed compared to the corners you can enter flat out.

In corners you enter flat out, if you lift you know you did wrong. In a braking corner when you come off the brakes and you are slow you know you can go faster, but it's not going to take big chunks off your lap time.

On my first lap today I was at about 40% in the Carousel because I didn't know my way around the track, but I was told that section of the track had to be done flat out. I knew it was going to be a little scary, but once you do it the first time, each time after it's fine.

You build your confidence, know you can take it flat out, and then it's not a problem.

I'm struggling more in turn 1 and 14. Turn 14 is not necessarily a fast corner; it's deceiving because the corner goes away and bends in so you think it's sooner then it is. I'm still learning my way around.

At a track of this length, the lap times are 2 minutes so you don't go through the corners as many times in each practice session. At San Jose we run a 50 second lap so you get about 50 laps of practice. You see every corner over and over allowing you to find those little adjustments to your line.

Around here I realize I need to make an adjustment to go through turn one 10 mph quicker, but the lap is so long that it slows the learning process.

Mecca of Speed: At the current time would you consider yourself more of a technical driver?

Frankie Muniz: Here I'm 1.8 seconds behind my teammate. I beat him in all the slow technical corners and he dominates all the high-speed corners such as turns 1, 3 and 14. Turns 3 and 14 exit onto the long straightaway and if you are 5 mph off the pace at the apex, you are slow all the way down the straightaway, which are really long here.

Mecca of Speed: What are your long term prospects in racing?

Frankie Muniz: I defiantly want to be in Champ Car, it's the most appealing to me. Everyone always says Formula 1, but I think Champ Car is a realistic goal I can set and try to achieve in a few years.

We'll see how next year goes and take it from there.

Mecca of Speed: What are some of the qualities of a team such as Jenson Motorsports that you didn't realize were in racing before you go involved?

Frankie Muniz: In open wheel road racing the driver is the most recognizable individual, but so much of it has to do with the team. From car set-up to how a team works together and how a driver works with their team.

When I started I thought you just got in the car and if you were fast you were fast and the team made sure there was gas in the car.

It's crazy how hard the crew works. Day in and day out they are working to give the driver the best car possible.

We have a good bond between us and I would really like to keep that. I look at other teams and ours is very fun. The work gets done, but we have a good time doing it.

In other teams it seems like a boot camp sometimes and that is pretty scary. I've never been in that environment so I can't really say what it's like.

Mecca of Speed: Has this weekend's doubleheader with ALMS given you any interest in doing some sportscar racing?

Frankie Muniz: I would love to drive one of the LMP cars; it must be an amazing experience.

I don't have any desire to race in a GT class. I've tested a GT car, but once you have driven on open wheel car everything else seems so slow.

Mecca of Speed: How has the transition been from actor to racer?

Frankie Muniz: My background helps. To make it as a pro racer you have to have a lot of fans and attract sponsors that are interested in you specifically.

Only so many people are capable of racing and everyone here is really good, so if I can bring anything from my past here to help out, I'm more then happy to.

Mecca of Speed: You have a good approach to this sport and are heading in the right direction. Good luck on your career.

Frankie Muniz: Thank you.
Source: MeccaofSpeed
See more photos in our GALLERY.