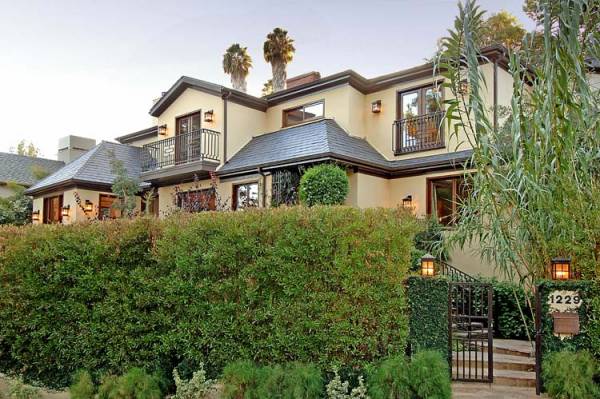 Frankie Muniz has put his house (N. Wetherly Drive, Los Angeles, CA) up for sale at $3,875,000. Which he bought in January of 2006 for $3,499,000. Some sources say he did "extensive" upgrades, so we are unsure of whether he will make a profit. Frankie has bought and sold several houses in the past.
Features in the Wetherly Drive house that Frankie is selling include four baths, an open floor plan, an outdoor fireplace, a pool and spa, a full surround sound system, a viewing deck, and a large master suite with pitched ceilings, skylights, two walk-in closets and a bath with an infinity tub, according to listing information. The 1,972-square-foot house was built in 1941 and sits on a very small, 0.17-acre lot, according to public records. Described as 'hot property' but the LATimes.
It is not yet known if Frankie has purchased a new home, but I'm sure we will find out soon.
See 60+ photos of the house in our GALLERY.
Click 'more' to read about Frankie's previous houses.
Source: LATimes, bergproperties.com, realestalker, Lisitng | Thanks Lucky | Discuss in FORUM
Previous Houses
The house at 1164 N. Doheny Drive above the Sunset Strip, which he purchased in mid-2003 through his 1164 North Doheny Drive Trust for an undisclosed amount and which he sold to actress Halle Berry's New Start Trust in mid-2005 for $5,995,000, according to public records.
The 3,891-square-foot house at 1506 Blue Jay Way in the Bird Streets area of Los Angeles' Hollywood Hills, which Muniz purchased in mid-2004 for an undisclosed amount. Muniz's Blue Jay Way Trust sold the house in May 2005 for $3,900,000 to a non-celebrity after it had been listed for $3,995,000. Built in 1962, that house has nifty security features like fingerprint-recognition software. Blue Jay Way is the street where actress Jennifer Aniston owns (and rents out) a 2,903-square-foot house (at 1639 Blue Jay Way), which she purchased in 1995 through her Wonder Trust for $742,500, according to public records.