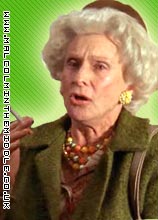 Cloris Leachman, who played the role of Grandma Ida on Malcolm in the Middle, is creating a one-woman stage show that will be an overview of her acting career. The show is titled Cloris!.
While her many portrayals will be re-enacted by an actress playing Cloris (which has yet to be found), many of her television and other roles will simply be played on a screen during the show that will include comments given by people on those shows (as to which, if any, of Malcolm in the Middle's cast have provided such comments is currently unknown.)
"Cloris!" hopes to make its world premiere in her home town of Des Moines, Iowa, some time next year. It's in the beginning of its workshop phase right now.

That means Leachman and her ex-husband, writer-director George Englund, are experimenting with the material, seeing what works with the audience, what needs to be added, what needs to be subtracted and what needs tinkering or massaging.

But one thing is clear after the first experiment in front of a capacity crowd: Englund has selected a quality block of talent that is quite capable of being molded into the multiple, wide-ranging characters he has envisioned for a national showcase.
Source: The Desert Sun | Discuss in FORUM