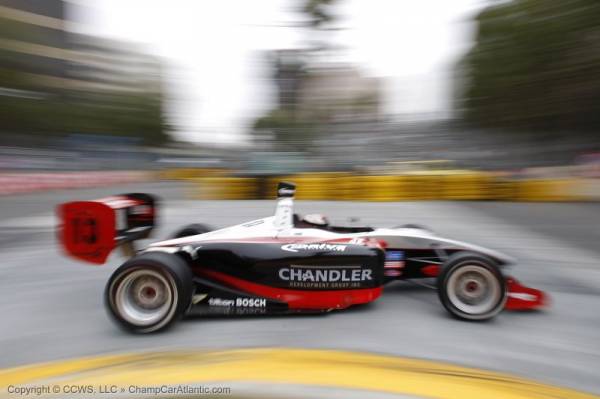 Frankie has now finished the Champ Car Atlantic series.
He started at 23rd position in Edmonton Race 1 and ended up 17th, the in Race 2 started 23rd and ended 16th. However in the end he held 15th position following the post race disqualification of the car of Adrian Carrio. Muniz made one of the best passes of the weekend late in Race 2, as he chased down the car driven by veteran driver Mike Forest and completed a daring pass under the brakes in Turn 1.
In San Jose Muniz achieved the best result of team Jensen, scoring an 11th place finish in the Sunday final. Muniz made several passes during the race, earning enough championship points to pass team mate Sutherland, plus Mike Forest and Brian Thienes in the season point standings.
In Elkhart Lake, Frankie finished the final race in 18th place, earning a further 3 points bringing his total for the season to 41.
Frankie will be racing in Phoenix in early December during a final non-championship Champ Car Atlantic event. In the meantime, Frankie will be taking some time out in Europe. More testing will also be taking place in early October as Frankie prepares for next years Champ Car Atlantic championship.
A large number of photos from all his races have been added to our Gallery.
Source: FrankieMunizRacing.com & Jensen Motorsport | Discuss post in FORUM