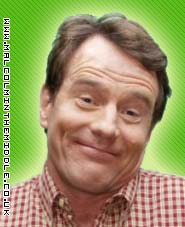 Another interview with Bryan Cranston (Hal) about his new stage role in 'Chapter Two'. A must read as Bryan talks about MITM fan mail, 'Breaking Bad' and more.
Call it Bryan in the middle. Of rehearsals, that is.Bryan Cranston, who played henpecked Hal in the long-running TV series "Malcolm in the Middle," is now readying an on-stage role. Come Thursday, he'll open a 10-day run at Shadow Lawn Stage in West Long Branch.

The play is "Chapter Two," Neil Simon's 1978 comedy-drama, in which Cranston portrays George Schneider, a successful novelist whose beloved wife dies. Just when George vows he'll never marry again, he meets Jennie Malone, and wedding bells soon ring. Shortly after, their apartment is ringing with heated arguments.

"George is in Chapter Two, while there are times when I feel as if I'm already working on the epilogue of my life," Cranston jokes. He then tells of his own Chapter One, when he was born 51 years ago in Los Angeles to parents who were actors.

"Mom gave it up to take care of me and my brother," he says. "That left my father to live a typical actor's life — feast or famine. One year, he put a pool in our back yard. The next year, we couldn't swim in it because he couldn't afford the chlorine for it. One year we got a new car, and the next year he traded it in for an older one. That message of insecurity really served me well when I went into this inherently insecure business."
Click 'more' to continue reading the interview.
Source: NJ.com | Discuss this post in the FORUM
Cranston didn't plan to act, though. "I went to college for law administration. I was going to be a policeman, because it was a masculine thing to do. Being of Scotch-Irish descent, I got a lot of support from all my relatives. Then an academic counselor said to me, 'You need to round out your curriculum with some liberal arts courses.' When I saw that acting was available, I thought that'd be fun. And, that," he says, snapping his fingers and pointing, "began my Chapter Two."

Like George Schneider, Cranston's been married twice. "Unlike George, I wasn't originally married to my soulmate. I was 23, and two years later, we were both thinking, 'Hey, what did we do there?' My heart wasn't broken, and neither was hers. We made a mistake, no hard feelings — and no children."

In 1986, Cranston was cast in an episode of the TV show "Airwolf." He played a villain who at one point holds a gun to a woman's head. That woman, Robin Dearden, would turn out to be his second wife.

"We were involved with others then," he says, "but less than a year later, we weren't, and we re-met in an improv comedy class."

They now have a 14-year-old daughter named Taylor. The entire family has come along to West Long Branch: Dearden portrays Jennie in the play, and Taylor is working in the box-office.

"We took this job so we could all spend some nice time at the Jersey Shore," says Cranston, who usually spends his Julys in his Los Angeles home.

"Chapter Two" happened because of Cranston's friendship with actor Bill Timoney. The two met in the early '80s, when each was performing in an ABC soap opera. Timoney was portraying the nerdy Alfred Vanderpoole on "All My Children," while Cranston was on "Loving," playing Doug Donovan — "the associate professor in theater at Corinth University, a school not unlike Monmouth right here," he says, of where Shadow Lawn is in residence.

The two hit it off, and have remained friends ever since. "Some 'friends' forget you after they get a hit TV series," Timoney says. "Bryan has always been terrific to me, and my wife, Georgette."

She's Georgette Reilly, who met Timoney when they were doing a play at the Celtic Theatre Company in South Orange. Once "Malcolm in the Middle" ended last year, Timoney suggested that the foursome do a play. They all agreed that "Chapter Two" would be the ideal vehicle. Timoney plays George's brother Leo, a randy executive, while Reilly portrays Faye, Jennie's good friend, who'll become embroiled in her own difficult relationship.

Cranston knows that, if not for his 133 151 episodes [MITMVC edit] of "Malcolm in the Middle" (which earned him an Emmy nomination), he could have wound up like many actors — in Chapter 11.

"That's why no matter how much fan mail I got, I always answered every letter," he says. "People were always writing in, wondering what Hal's last name was, what he actually did for a living, and in what city the family lived — information that the series never told anyone. There were even people who suggested that Hal was part of the Witness Protection Plan — and I made sure I wrote them back. After you struggle for a while and success finally hits, you don't forget what it was before. You're grateful."

After the play ends, Cranston will begin a new chapter. He'll go to New Mexico to be in "Breaking Bad," an AMC TV series. "I play a chemistry genius who had a fear of success, and became a science teacher. He's got a wife, a child with cerebral palsy, and an accident baby on the way when he finds he has inoperable cancer. So he begins to make and deal crystal meth to make as much cash as he can for his family before he dies. I like the show, but I'm fully aware that it could flop like a fish on a boat."

But first, "Chapter Two."

"It's an ideal play for me and Robin, for we've lived so much of it," Cranston says. "When George and Jennie meet, (it) rekindles how we felt 20 years ago. We're all set in the scenes where they get comfortable with each other, for we've been comfortable for a long time.

"Then," he says, "there are the scenes where George and Jennie argue. Those are the times that each of us hears a tone we recognize from previous, uh, 'discussions.' I predict that those will feel pretty real when we do them on-stage."

Peter Filichia may be reached at pfilichia@starledger.com or (973) 392-5995