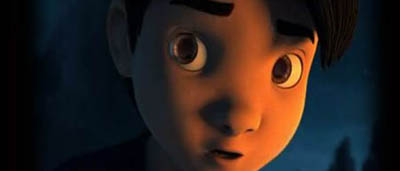 The 'Legend of Secret Pass' takes place in the mountains of the South West and involves Thunderbirds of Indian mythology and an animal refuge of mystical proportions. An unlikely troop of animals and humans are caught up in a clash of ageless magic. In this moment of crisis, the barest chance to avoid cataclysm falls into the hands of an Indian boy, Manu voiced by Frankie Muniz.
This 'Making of' video features footage of Frankie voicing Manu.
[flv:https://www.malcolminthemiddle.co.uk/video/frankie/legendofsecretpass/Frankie-Muniz-Legend-of-Secret-Pass-Dev-MITMVC.flv 500 500]
Images in our Gallery

Click 'more' to see 3 more 'Making of' videos and other info.
IMDB | Official | Discuss this post in the FORUM

Michael Chiklis (Fantastic Four: Rise of the Silver Surfer) told SCI FI Wire that he's completed work on an upcoming animated movie entitled The Legend of Secret Pass. The story follows a Native American boy named Manu (Frankie Muniz), who must follow his destiny in the face of impending doom. "I play the villain," Chiklis said in an interview while promoting Rise of the Silver Surfer. "It deals with a particular American Indian tribe [called the Thunderbirds]. It's very magical. It's dealing with shamans and the Earth and connecting with our Earth. I think it's kind of topical because of all this talk of global warming and everything. It deals with being rooted and grounded in the Earth and the elements and being kind to it."
Source: SCI FI Wire
[flv:https://www.malcolminthemiddle.co.uk/video/frankie/legendofsecretpass/Frankie-Muniz-Legend-of-Secret-Pass-Characters-MITMVC.flv 500 500]
[flv:https://www.malcolminthemiddle.co.uk/video/frankie/legendofsecretpass/Frankie-Muniz-Legend-of-Secret-Pass-Drawing-MITMVC.flv 500 500]
[flv:https://www.malcolminthemiddle.co.uk/video/frankie/legendofsecretpass/Frankie-Muniz-Legend-of-Secret-Pass-Look-of-MITMVC.flv 500 500]
Discuss this post in the FORUM