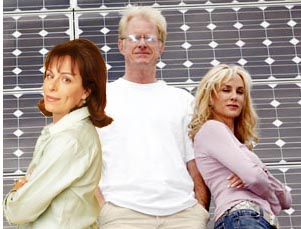 Jane Kaczmarek is to appear in the new series of HGTV's popular, critically-acclaimed, eco-friendly series "Living with Ed" a show that follows Ed and gives viewers an inside look at his green way of living.
Ed Begley and wife Rachelle Carson dispensing more tips and practical ideas on how anyone can lead a greener lifestyle. In a special new twist this season, Ed ventures out beyond his own green acres to give viewers a peek inside the homes and properties of other Hollywood personalities who are either looking for advice from Begley or eager to share the innovative ways they are working toward environmentally-conscious living.

Daryl Hannah, Bradley Whitford, Jane Kaczmarek, Sharon Lawrence, and Jackson Browne are among the celebrities who are expected to open up their homes to Begley and HGTV viewers. In each half-hour episode, cameras will follow Ed as he gives and gets guidance and inspiration on how everyone can incorporate easy, attractive, practical and affordable "green" ideas into their daily lives.
Living With Ed will premiere in its regular weekly prime time slot on Monday, August 27 at 10:30 p.m. ET/PT on HGTV.
Source: NewsBlaze.com | Discuss this post in the FORUM.