What do you make of this old article, from early 2002, in the British Star magazine? Just a bunch of malicious gossip from the usual, apparently frustrated "unnamed sources", or does it have a ring of truth to it? Note that Jane Kaczmarek's statement, if literal, can be taken in a number of ways, like just Frankie's growing pains or the pressure of fame.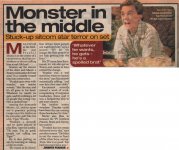 Full text:
Monster in the middle

MAL-CONTENT Sitcom star Frankie has few fans on the set, says a source

Stuck-up sitcom star terror on set

MALCOLM in the Middle star Frankie Muniz is at the center of a controversy that has co-workers on the set calling him a real-life brat!

Sources say the success of the show and Muniz' s Emmy nomination for best actor in a comedy turned him into a teen tenor. "Frankie gets away with murder," one insider reveals. "He's the star, and it's all gone to his head. Whatever he wants, he gets, and it's rubbing a lot of people the wrong way. He's a spoiled brat." Among the demands Muniz, 15, insists upon are a practice putting range near his trailer so he can play golf like his idol, Tiger Woods.

"Frankie's a showoff, and he dares anyone to play him;' says the insider. He says: 'I'm so good, people are calling me Tiger!" He is also putting on airs by insisting on taking a limo to work. "He wants to be chauffeur driven when people are watching him," says a source. "It's for his image. He likes people to see him getting into the limo."

His TV mom Jane Kaczmarek, 45, who also got an Emmy nod, seems to have noticed the change. "Frankie was a real sweet boy when we started the show," says Kaczmarek, sarcastically adding: "and now he's a few years older." Kaczmarek recently missed a week of work, complaining of migraine headaches. Some said it was a bargaining ploy to get more money. But another source wonders: "Frankie could have been the one causing those headaches for Jane. Muniz also likes to torment his TV brothers Francis, Reese and Dewey, say sources. "Frankie has ice cream delivered every day," says another source. "He likes to eat the cones in front of the other boys, saying: "Yum, this is so good. Too bad you can't have any:" - JENNIFER PEARSON
As for Jane Kaczmarek's migraine attacks, which were also reported here:
https://www.eonline.com/news/42911/malcolm-s-mom-sick-or-sick-out
Brief quote:
The 46-year-old actress, who plays Frankie Muniz's fearsome TV mom, left the show two weeks ago amid efforts by her camp to secure "a big pay raise," USA Today reports.

But her aforementioned camp says migraines--not money matters--are to blame for her absence.
I think as it turned out, it had nothing to do with her demanding a pay raise, nor with migraines per se. She was just suffering from a troublesome pregnancy, with daughter Mary Louisa (born November the 25th, 2002).
On the other hand, actresses have been notoriously underpaid for years compared to their male co-stars, especially as this was more than 15 years ago, so I can imagine Jane earned a lot less than Bryan.
Any views?
Best,
Rich
P.S. I noticed some sloppy reporting in the article. Several sources state that Jane's absence on the set started on February 12, 2002. At that time, Jane would have been 46, and Frankie 16. So the general reliability of the article is in doubt.
Last edited: