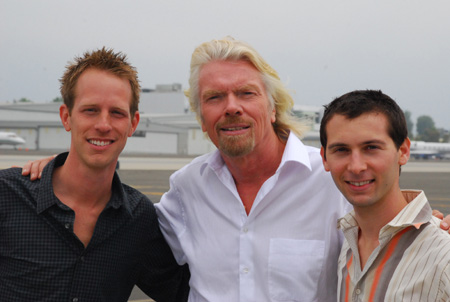 The official Twitter account for Virgin Produced recently announced the first project from the new production and packaging company.
The film, currently known only as 'Untitled Comedy', is set to feature a whole host of stars and be in the format of a series of risqué comedy sketches that will be connected with a 'unifying storyline'. Actors already on board include such big names as Hugh Jackman, Kate Winslet, Richard Gere, Anton Yelchin, Gerard Butler, Naomi Watts, Anna Faris, Johnny Knoxville and many more.
Relativity Media, LLC (RML) announced today it has begun production on the UNTITLED COMEDY project. In January, Relativity Media came aboard to co-finance and co-produce the project, and will arrange distribution through one of their studio partners. Production will continue thru late May.

Peter Farrelly, Charles Wessler, GreeneStreet Films' John Penotti and Relativity Media's Ryan Kavanaugh are producing the project. Executive producers are Tim Williams of GreeneStreet Films and Tucker Tooley of Relativity Media. Co-producers are Tom Gormican and Marc Ambrose. Rocky Russo and Jeremy Sosenko also serve as associate producers. Witness Protection Films also serves as a production company partner.

Originally set up at Overture Films, the project kicked into high gear after the producers met with Relativity Media last December. The brainstorming session lead to a revamp of the central premise of the film. The new team created the template for a unifying storyline for a series of sketch comedies in the vein of the 1970s hits Kentucky Fried Movie and Groove Tube.

"Relativity has been the perfect partner through the extraordinarily complicated process of putting this movie together. We are thrilled to be underway," commented Farrelly.

The filmmakers who have already completed their work are Peter Farrelly, Brett Ratner, Elizabeth Banks, Bob Odenkirk, and Griffin Dunne. Additional directors will be announced shortly.

The growing cast includes, Elizabeth Banks, Gerard Butler, Kieran Culkin, Hugh Jackman, Johnny Knoxville, Christopher Mintz-Plasse, Chloe Moretz, Liev Schreiber, Sean William Scott, Tony Shalhoub, Emma Stone, Matt Walsh, Patrick Warburton, Naomi Watts, and Kate Winslet. The producers will announce additional cast members as further deals are solidified.

"We all sat down and came up with what we think is a hilarious through-line for the movie," said Wessler. "Given the amount of pot I had smoked, at least I think it is hilarious."

Penotti added, "This has been one of the most fun and challenging projects we have ever undertaken. We are completely blown away by the caliber of talent that this project has attracted. It is a testament to the quality of Charlie and Pete's original concept."

Farrelly and Wessler are long time collaborators, working on many of the classic Farrelly Brothers comedies including There's Something About Mary, Dumb and Dumber and Shallow Hal.
Production on "Untitled Comedy" is reportedly ongoing: 14 of the sketches have been shot, with 5 to go. It is expected to be in cinemas this year.
The first film that gets Richard Branson's Virgin Produced film shingle off the tarmac–it was innocuously mentioned as an untitled Peter Farrelly film in the announcement of Branson's joint venture with Ryan Kavanaugh's Relativity–has a bigger concentration of first class cabin-caliber actors than any under-$8 million film I can remember. And the cast is still growing. Deadline was first to reveal the Kentucky Fried Movie-style laffer when Kavanaugh replaced Overture Films as financier and the film started production. They had a good cast then, but the filmmakers keep bolstering by showing prospective talent the raucous segments shot so far, especially the Farrelly-directed seg with Hugh Jackman and Kate Winslet that is especially outrageous and R-rated. Aside from Jackman and Winslet, the cast now includes Richard Gere, Anton Yelchin, Gerard Butler, Naomi Watts, Anna Faris, Johnny Knoxville, Julianne Moore, Liev Schreiber, Elizabeth Banks, Kristen Bell, Kate Bosworth, Josh Duhamel, Justin Long, Seann William Scott, Emma Stone, Jack McBrayer, Chloe Moretz, Christopher Mintz-Plasse and Uma Thurman. 14 segments are in the can, with 5 to go. Steve Brill, Steve Carr and James Gunn have joined a director roster that already had Peter and Bobby Farrelly, Brett Ratner, Banks and Griffin Dunne. The pic, a co-production between Greene Street and Relativity, is produced by Kavanaugh, John Penotti, Peter Farrelly and Charlie Wessler. Tim Williams and Tucker Tooley are exec producers.
Source: deadline.com