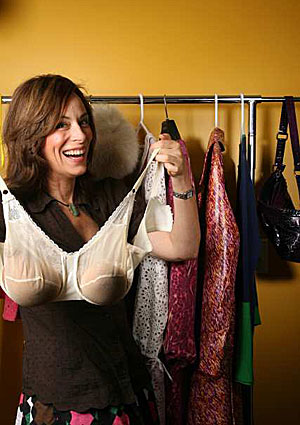 In September Jane did an interview with the LA Times about life, work and Malcolm while rehearsing The House of Blue Leaves.
No slowing down for Jane Kaczmarek
Three young kids and plenty of acting roles, including the play 'The House of Blue Leaves,' make for one busy woman. By Diane Haithman

It's a truism of the theater: Nuns are funny. Just ask Nicholas Martin, director of John Guare's "The House of Blue Leaves," the inaugural production of the newly remodeled Mark Taper Forum, reopening Saturday after a $30-million makeover. "It's true. No matter what you give a nun to do — especially drinking a bottle of beer," Martin observes.

During a recent rehearsal at the Taper, Martin is keeping track of a trio of very funny sisters, locked out on the roof of a Queens apartment building in a misfired attempt to get a better view of the visiting pope.

There is one thing that's even funnier than nuns onstage: bras. Particularly the B-52 model that Jane Kaczmarek is wearing beneath her snazzy hot pink dress in her role as Bunny Flingus, mistress of Artie Shaughnessy (John Pankow). Artie is a zoo attendant who dreams of being a songwriter. Bunny, also a dreamer, encourages Artie to contact an old high school chum who is now a Hollywood producer, hoping he can spirit them both out of Queens and away from Artie's mentally ill wife, Bananas, played by Kate Burton, Kaczmarek's former roommate at Yale Drama School and the wife of Michael Ritchie, artistic director of Center Theatre Group, which oversees the Taper.

While waiting for the scene to begin, a red-faced Rusty Schwimmer, who plays the head nun, lapses into Yiddish as she sweats in her heavy black habit: "Oy, the schvitzing," she complains, fanning herself with her long black skirts.

As the nuns rehearse the awkward business of climbing in the window, Kaczmarek casually grabs her prominent breasts, one in each hand, and rearranges them. See, they're not really hers. As she explains later in her dressing room, the bra is filled with birdseed to give it extra heft. "See?" she says, delightedly handing over the contraption for appraisal.

Defending 'Malcolm'

"House of Blue Leaves" is a nutty play. But this oddball stage family can't faze Kaczmarek, 52, best known for her role as exasperated Lois, mother of five boys, in the 2000-06 TV comedy series "Malcolm in the Middle."

Kaczmarek never liked hearing the "Malcolm" clan labeled "dysfunctional." "I think we were so functional; I don't think people know what the word means," she says. "It's become sort of a garbage term for something that isn't 'Ozzie and Harriet.' "

Although Kaczmarek's family life is decidedly less shrill, from the outside it looks as complicated as the one depicted on "Malcolm." She is married to actor Bradley Whitford, who starred on the long-running NBC series "The West Wing" (1999-2006). Whitford currently stars in the comedy "Boeing-Boeing" on Broadway. The Pasadena couple have three children: Frances 10, George, 8, and Mary Louisa, 5.

Although she is nothing like Lois, the mom from hell, family life is important to Kaczmarek. In fact, she comes to "House of Blue Leaves" because of a connection that feels like family: Her longtime friendship with Burton. Kaczmarek's daughter Frances is a classmate of Burton's daughter Charlotte, and the mothers have wanted to do a play together for years.

"We are connected on so many levels; we have to keep reminding ourselves that we are two fifth-grade moms who just do this other thing, which is act," Burton says. "She's doing what every actor who is a parent hopes to do: You hope to be fulfilled by your work, but, and the same goes for me, you are a parent first."

Meanwhile, the former roommates are delighted to be back in the theater. Says Burton, "If we ever do this play somewhere else, we might switch roles . . . because they really are two sides to the same coin, Bananas and Bunny. They are two of the greatest female characters ever created."

You might call Kaczmarek's TV children and her real kids a blended family of sorts: Two of Kaczmarek's children were born during the "Malcolm" years. "There was a fateful week when NBC called and said 'West Wing' was picked up, and Fox said that 'Malcolm' was picked up, and the next day the doctor called saying I was pregnant," Kaczmarek recalls. "We had a toddler, two television series, we were living in a rental while our house was being renovated, and I was pregnant with No. 2."

George was born with an immune system deficiency that fortunately was short-lived. "The first episode back, they said: 'You're in a bathing suit.' I said; 'No, I weigh 154 pounds, I'm nursing, I've got varicose veins the size of my thumb!' " Kaczmarek exclaims. "I insisted on wearing support hose underneath my swimming suit, a sarong over the suit, and getting a stand-in."

Family was a large part of the reason that Kaczmarek insisted that her next TV series job be part time: She is one of the ensemble cast of "Raising the Bar," a new TNT legal series created by Steven Bochco and David Feige. Bochco agreed to a filming schedule that would enable Kaczmarek to work only two days a week to portray stern Judge Trudy Kessler, a former public defender with a hardened outlook and a rather twisted personal life.

"She's a gifted actress, she's the right age, she's really smart, and she obviously brings a marquee value to the show," Bochco says of Kaczmarek. "But what was nice about it is it put her in a role that I think audiences aren't used to seeing her in after all those years on 'Malcolm.' "

Feeling grown up

For her part, Kaczmarek likes not playing "Mom" for a change. "When I was doing 'Malcolm' . . . I was with those kids all the time; they are not the most stimulating companionship," she says, laughing. "Doing 'Raising the Bar' was fun because it was adults — funny and irreverent. And I got to wear such nice clothes."

Kaczmarek says she was willing to commit to juggling family with her grueling "House of Blue Leaves" schedule, eight shows a week, because of the play's relatively short six-week run.

Plus the actress — whose credits include "Lost in Yonkers" on Broadway and a host of regional theater productions, including an Ovation Award-winning turn in "Kindertransport" at L.A.'s Tiffany Theatre — is just plain happy to be back on the boards and to share the theater experience with her kids.

"Hanging around TV studios is not a place I like my children to be," she admits. "The wonderful thing about theater is, we're all in the same boat, we are in one room for the day, there's one toilet, everybody brings their lunch. There's one pot of coffee. In television, everybody goes off to their trailers. The intimacy that happens during a play is so much deeper."

But speaking of families, while Kaczmarek has enjoyed the range of roles her career has allowed, she admits her doting parents back in Milwaukee — Edward, 84, and Evelyn, 81 — don't always understand what an actor's life is all about.

"They don't take any of this seriously," Kaczmarek says. "They don't watch television; they did not like 'Malcolm in the Middle.' They would watch it for me, and they would always call me and say: 'Your facial expressions are some of the best facial expressions you've ever made. But we don't like it when children spit pizza on television.' "
November 18, Jane attended the Air Force Week reception at the Griffith Observatory.
Jane Kaczmarek, daughter of a retired Air Force Reserve colonel, spoke about the World War II contributions of nurses and Women Airforce Service Pilots. She presented the award to Edith McClure, a nurse who served overseas, caring for Americans and German prisoners of war.

"Nothing makes me happier or (feel) safer or prouder than seeing an Air Force uniform…WASP pilots broke in new aircraft and tested repair planes while receiving no rank or benefits…Their work was so dangerous that no private insurer would cover them. Despite their tough job, they were expected to fly wearing dresses, hosiery and high heels."
Source: af.mil & latimes.com