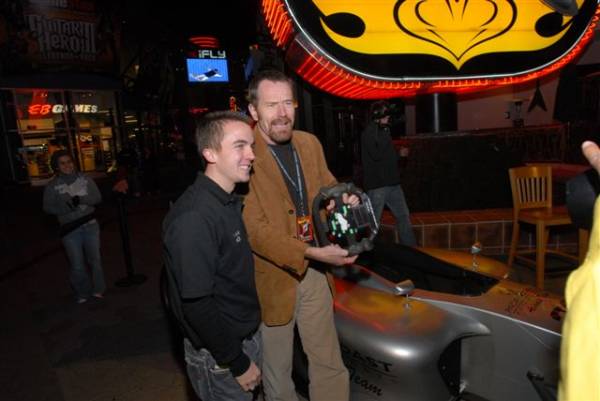 Its been more than a month since we updated you on Frankie's racing news. However a lot has been happening.
January 30, 2008 – Universal CityWalk in Hollywood, CA
Frankie Muniz and Carl Skerlong announced they had joined Pacific Coast Motorsports. That means Pacific Coast Motorsports expand their racing team with a two-car entry in the Cooper Tires Presents the Champ Car Atlantic Series Powered by Mazda.
PCM team director Tyler Tadevic made the announcement under the famous Hard Rock guitar at a media event at the Hard Rock Cafe. Attended by a large contingent of entertainment and sports media, Tadevic commented on the team's desire to return to their racing roots.
"We're really proud to be returning to the series where we won the 2004 championship, and we are looking forward to continuing our winning tradition"…"We feel we've got two exceptional young drivers on board. They're both quick and very professional, we've got an exciting season ahead of us."
Frankie Muniz will drive the #29 PCM/Mazda/Swift in his sophomore season of Atlantic competition.
"Joining PCM is a huge step forward for me in my racing career,"…"In the three tests I have already completed, I have learned so much and really developed my skills as a racing driver. Tim Lewis, my race engineer has a championship winning record behind him and we have gelled really well. I just can't wait for the season to start in April at the Long Beach Grand Prix and I am thrilled to represent a professional racing team like Pacific Coast Motorsports."
A nice surprise for Malcolm in the Middle fans was the fact that Bryan Cranston (Hal) joined Frankie at the announcement.
Source: hollywood.comFrankieMunizRacing.com & motorsport.com
February 5 – 6, 2008 – Sebring Race – Frankie came in at #16
"It was a good day today, everyday with PCM I am learning so much, it's awesome and great for my confidence inside the race car. I was a little disappointed this morning; I do not feel like I maximized the session. However, this afternoon was much better and we made a lot of progress. I had the best session I have ever had in terms of the timesheets and I am confident we can be much quicker in the morning, so that is great. Sebring is a great track for testing. It is bumpy like a street circuit, but it also has high-speed corners which are great confidence builders and challenging brake-zones that give you the opportunity to work on late-braking. I have been training everyday over the off-season and it has definitely paid off. It was 80 degrees today and it felt like it was nearly 100% humidity but I still had a lot of energy at the end of the day after 125 laps, I feel great!"
"This was a very important test for our team in terms of development. We tested combination after combination and have a lot of great information heading into the season because of it. I am learning so much from my engineer, Tim Lewis. I've never really learned how to develop a car, I've certainly never spent this much time developing set-up and it is really a great experience and I feel I have a much better fundamental understanding of what the car needs and what I need to maximize the track conditions. We did our best time of the test this afternoon when the track was actually slower; I ran the 12th quickest time at the point. The interesting thing also was that I was quicker on the old tires. It says a lot about the terrific product Cooper Tires provides us. I wish we had one more day because the car we ended up with this afternoon was awesome and I would love to try it out tomorrow morning when the track is at its best! I am really excited to get the season started!"
Source: motorsport.com
February 22, 2008 – Champ Car merges with Indy Racing League
For those who don't follow the racing scene, Indy Racing League is a similar racing league to Champ Car both 'open-wheel' however its larger. The Indy Racing League has bought up the Champ Car League. However the Champ Car Atlantic series with continue to run for at least the next year. So Frankie's plans for this year stay the same.
Source: ESPN & motorsport.com
Discuss in FORUM