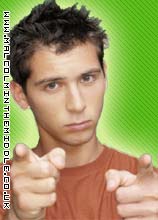 J2 Pictures, Justin's film production company gets a new head of production.
J2 Pictures has tapped producer James Reach as its head of production.

Shingle, run by actor-producer Justin Berfield and Jason Felts, has several projects in the works including "Escobar," the feature about the late Colombian druglord to be directed by Antoine Fuqua and exec produced by Oliver Stone; "Who Is Doris Payne"; and "Garcia," a biopic about Grateful Dead founder Jerry Garcia. Berfield and Felts also have a smallscreen arm called J2TV.

Reach first worked with J2 on "Blonde Ambition," a Millennium Films pic starring Luke Wilson and Jessica Simpson. He recently produced his first full-length feature, "Something's Wrong in Kansas," and co-founded Jetcast.com, an online aggregator he sold in 2005.

"Escobar" is skedded to begin lensing in Puerto Rico and Colombia in the first quarter. Shingle is developing "Who Is Doris Payne," about the career of the jewel thief, now 76, and is working with Carolyn "Mountain Girl" Garcia on its biopic about Jerry Garcia's early years.
I guess it's going to re-brand as J3 now?