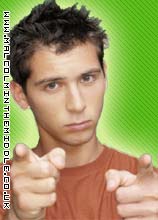 As some readers may know Justin has an official forum where he posts, and he has just updated his fans on his current projects and life in general.
Whhhhaaaat's Uppppppppppppppp?????

hey everyone- what's going on? looks like ALOT since i last posted. i have been out of town working and apologize for not posting recently. lots to report and hope everyone is doing well.

let's see where do i begin? first…i forgot my password to sign on to this board. yes, im an idiot. not smart when i want to reply to messages, huh? it's all settled now and here i am!

im back in los angeles and it is hot! i have some exciting news to report about the next film that i am producing through my company. and NO, it doesnt have Jessica Simpson in it for those of you are sick and tired of reading about Blonde Ambition. this is something i have been working really hard on for a little over a year now and have kept under the radar. i really wish i could give you more details, but i have to keep it quiet for a while longer. we hope to start shooting at the end of the year and need to keep it confidential right up until production. it has been a very elaborate work in progress and i am proud of the team that has been assembled on it. It is so different from anything you would ever think would come out of my company (well at least so far). i really want to tell you more…but Hate to do this to you for now…BUT….keep you posted.
Click 'more' to continue reading…

on another note, and yes back to blonde ambition….to be honest….im not quite sure what is going to happen to this one. there are alot of internet rumors out there about it going straight to dvd. as i have been very public about in the past WHEN asked- and this is no new information….BLONDE AMBITION was not blonde ambition when it started. it really became a much different project after certain people became attached to it…and i decided as a result to be a little hands off during production because of it. that said, im not sure of it's fate…but regardless i think all luke wilson fans will embrace it. it really does have some funny moments and HEY…it's not supposed to be some life altering serious piece. it's jessica doing what she does best…playing goofy, stupid and hot! and luke falling for that. i never said it would win an oscar so keep that in mind when you see it.

also everyone keeps asking me in interviews and online- "when are you going to act again? are you going to act again?" the answer is simply…YES. I have not given up acting at all. it takes a lot of time and energy to create and run a business as most of you know. i have always had a passion for creating entertaining projects. when i formed the company right before the end of malcolm, i decided that i was going to really try and put all of my energy or at least 95% of it into launching and building J2. as a result, we are developing and producing some really unique projects and i am really enjoying myself. i am really enjoying the process of development and production.

malcolm in the middle to me was such a well written show. there was a great staff of writers and the storylines were really well done. because of that, i have to admit, that i got a little picky about what i wanted to do next as an actor. i have gotten picky about the writers and directors i want to work with. since that was such a great experience and really like a second family, i decided that after MITM that i am only going to work with friends and people i like. why work if it cant be fun?

for those animal lovers out there who have inquired about my dogs (yes, can you believe so many people really care?? its actually nice) …. they are alive and kickin. doing great.

i hope everyone is having a good summer. i guess that's my update for now.

although i dont always write , i do read the boards often, and appreciate your support.

later,
justin
Source: SafeSearching.com | Discuss post in FORUM