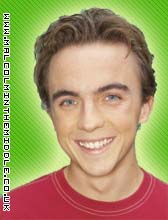 Frankie is racing in Edmonton today, here is his interview with the The Edmonton Journal. All the best Frankie and drive safe.
He was never the one scaling the neighbourhood fence, looking for the next boyhood adventure. He was a tap and jazz dance student, a child actor. He was Malcolm in the Middle.
But 16 months ago, Frankie Muniz walked away from Hollywood and stepped into a race car.

He traded in money and fame for octane and adrenaline.
Frankie Muniz was bitten by the racing bug at a celebrity event in California.

"There's probably less of a guarantee for me as an actor just because it's all about being wanted. Not about performance. Not anymore," said Muniz, who is in Edmonton to drive in the Champ Car Atlantic Championship.

"There are people I can name right now who are getting paid $10 million for a movie, and they're horrific but they're big celebrities."

"And I didn't really like being in a world like that."

"I like this, because if I put my mind to it and work hard enough and if I do well on the track, that's it. You can't tell me I'm not good. I like that aspect a lot more."

"And I do think I have a future in racing — if not as a driver then as an owner," says Muniz, 21."

"I want to be involved in the sport."
Click 'more' to continue reading this interview.
Source: The Edmonton Journal | Discuss this post in the FORUM
Sitting in his team's steamy paddock at the City Centre Airport, the site of this weekend's races, Muniz spoke about the shift from TV star to speed demon.

No longer is he playing a role, he's now playing catch-up, given that most of the racers he competes against grew up driving go-karts.

"I had no idea I was going to be a race car driver. I had no idea I wanted to be a race car driver, but I'm not bad," he said. "And I'm very competitive, so it's very satisfying to have a good result or to beat guys on the track.

"Even if I qualify in the back, I'm always running with people. I'm right there. That really pushes me too, knowing I'm as good as I am after 16 months."

Then again, he never took acting lessons either, but at the age of 13 was cast as Malcolm, the boy-genius who ended up anchoring an award-winning sitcom that aired for seven seasons.

He's done voice-over work on The Simpsons, had major roles in the films My Dog Skip, Big Fat Liar and Agent Cody Banks, and there are three more movies still set for release.

There are no other projects in the works — except the one that revolves around his No. 13 Chandler Team Jensen Mazda-Cosworth. That is where his focus lies. It is why he has a personal trainer, why he has put 23 pounds on his small frame. Why he will be on the track today for the first qualifying run.

By 2010, Muniz is certain he'll have graduated from the Atlantic series to the Champ Car circuit.

"I played all kinds of sports, but I was afraid to go up the stairs at waterparks. I mean, I'm not afraid to drive fast but I was afraid of heights, of roller-coasters. I wasn't a crazy daredevil kid.

"I was the one who was afraid to climb the fence and break into the school to go play basketball. But I've always loved cars, I've loved watching racing, and now I'm doing it at a very high level, and it's amazing. I'm really enjoying myself."

The bug first bit in 2005 when Muniz won a celebrity race at the Grand Prix of Long Beach. He was looking to buy a NASCAR team and tossed out the idea that he should go for a test ride for owner Eric Jensen. "I think he reluctantly said yes, just because he was testing real drivers, but after the second day he signed me for two years."

Last season, Muniz made his professional debut in the Formula BMW circuit. What followed were seven Atlantic starts that saw him finish no better than 19th, but lately Malcolm has moved into the middle of the pack.

He roared into ninth place in the July 8 race in Toronto, and now he's here in Edmonton, where there will be races on Saturday and again on Sunday.

"It's all about building confidence," he said. "You have to be confident that the car is going to stick and I had to be confident in myself.

"I know when I first looked at the Atlantic car it scared me. The thought of driving it a year ago was crazy, but now I am and I'm doing pretty well."

"I do hope to be doing this for a really long time."
Source: The Edmonton Journal | Discuss this post in the FORUM